Why moving to 3D designs can unlock your creative potential Young man with VR headset standing in front of a computer monitor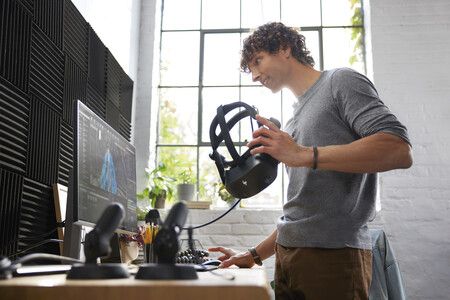 Any modern creative will know that 3D is everywhere. From cutting-edge games to blockbuster movies, and even manufacturing and fashion, 3D graphics are helping us to entertain audiences, work with clients to design new products and so much more. The numbers speak for themselves – in 2018 the global 3D animation market was valued at nearly $14 billion, and that's only set to grow.
The good news is that moving from 2D to 3D designs is now more accessible than ever. The design software used to create in 3D combines power with user friendliness, and there are some great online resources that can help you get to grips with these tools.
You also no longer have to spend a small fortune on the hardware to help you realize your 3D creations. While moving from 2D to 3D designs means you need the tools to back you up, there are now affordable workstations with state-of-the-art graphics capabilities, which can drastically speed up the rendering process and allow you to get your designs in front of your clients more quickly, while also being ever more ambitious with your 3D creations.
The Z by HP lineup of workstations and laptops can do just that. Take the HP Z4, the company's most popular workstation. Aimed at product designers, video editors, and architects, the HP Z4 features high-performance processors, plus support for dual professional graphics cards, including NVIDIA's new RTX A6000 range, and offers you the power to design, edit and render 3D creations, draw up CAD designs, and run simulations seamlessly.
Boundless creativity
If you want to create on the go, then the HP ZBook Studio G8 offers you incredible workstation power in a portable laptop design. Every inch of the HP ZBook Studio G8 has been designed with high-performance 3D graphical workflows in mind, allowing you to render and visualise in real-time. This 15.6-inch laptop comes packed with cutting-edge NVIDIA GeForce RTX or NVIDIA RTX professional graphics, making it the world's most powerful workstation of its size. Create anywhere in the world with this incredible laptop.
Your 3D creations will look better than ever thanks to the 15.6-inch HP DreamColor display, which offers 100% DCI-P3 coverage, and is Pantone validated for colour accuracy as well.
Embracing VR
One of the best ways to view your 3D creations – and show them off to your clients – is by using virtual reality. Commercially available VR headsets are more affordable than ever, and allow creators to experiment with and explore VR. Both the HP Z4 and the HP ZBook Studio G8 are VR-ready – so all you need to do is plug in a VR headset, like the HP Reverb G2, to experience your 3D designs in an unbelievably immersive virtual reality setting.
The world is changing thanks to 3D, and with Z by HP, you'll have the power to unleash your imagination and join in with the 3D revolution.