One-Chord Vamps and the Truth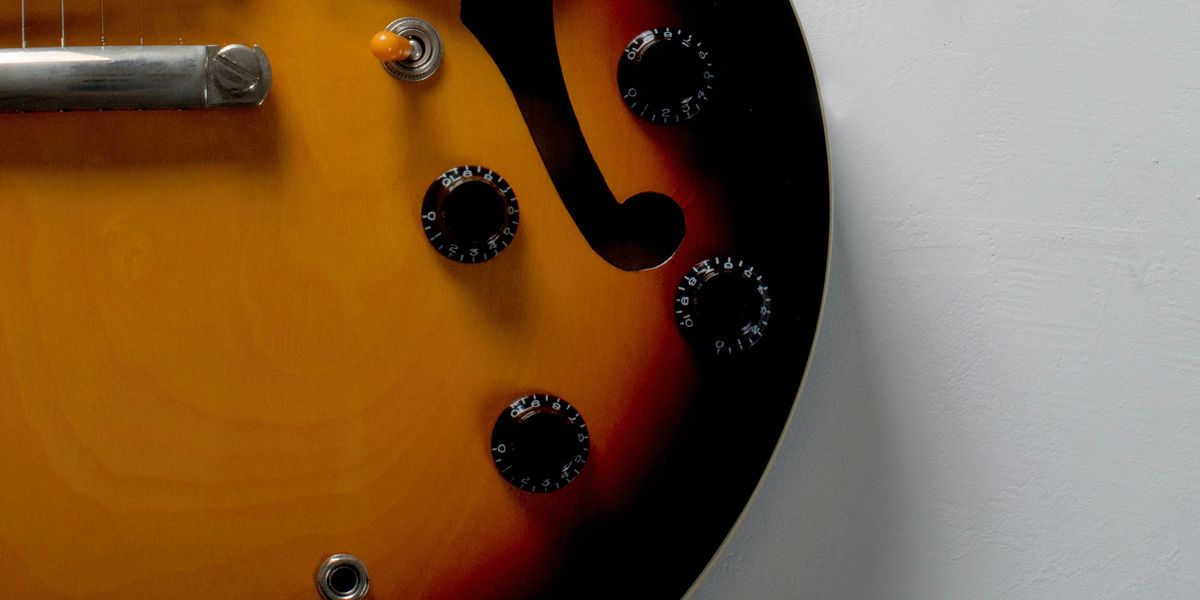 Improvising over one chord for long stretches of time can be a musician's best friend or worst nightmare. With no harmonic variation, we are left to generate interest through our lines, phrasing, and creativity. When I started learning to improvise, a minor 7 chord and a Dorian mode were the only sounds that I wanted to hear at the time. I found it tremendously helpful to have the harmony stay in one spot while I mined for new ideas to play. Playing over a static chord was crucial in developing my sense of time and phrasing.
---
The following is the first improvisational device I ever came across. I want to say I got it from a Frank Gambale book. The idea is that there are three minor pentatonic scales "hiding" in any given major scale. If we're in the key of C (C–D–E–F–G–A–B) we can pluck out the D, E, and A minor pentatonic scales. If we frame them over a Dm7 chord, they give us different five-note combinations of the D Dorian mode. In short, we are building minor pentatonic scales off the 2, 3, and 6 of the C major scale.
Viewing this through the lens of D minor (a sibling of C major and the tonal center for this lesson), D minor pentatonic gives us the 1–b3–4–5–b7, E minor pentatonic gives us 2–4–5–6–1, and A minor pentatonic gives us 5–b7–1–2–4. This means you can use your favorite pentatonic licks in three different locations and there are three different sounds we can tap into from the same structure.
If you smashed all of them together, you would get the D Dorian scale (D–E­­–F–G–A–B–C) with notes in common between the D, E, and A minor pentatonic scales. Ex. 1 uses all three scales, so you can hear the different colors each one creates over the chord.
Ex. 1
Ex. 2 is how I improvise with them, usually weaving in and out using different positional shapes.
Ex. 2
The next idea is one I stole from a guitarist who often came into a music store I worked at. On the surface, it's very easy: Just take two triads (in our example it will be Dm and C) and ping-pong between them. The D minor triad (D–F–A) gives us 1–b3–5, which is very much rooted in the chord, and the C major triad (C–E–G) gives us the b7–9–4, which is much floatier. Also, if you smash these two triads together, you get 1–2–b3–4–5–b7, which is a minor pentatonic scale with an added 2 (or 9). Eric Johnson uses this sound all the time. Ex. 3 is the lick I stole years ago.
Ex. 3
Ex. 4 is how I would improvise with this concept. Many different fingerings work with these, so experiment until you find a layout that's comfortable for your own playing.
Ex. 4
If two triads work, why not seven? This next approach will take all the triads in the key of C (C–Dm–Em–F–G–Am–Bdim) and use them over a Dm7 chord (Ex. 5). Each triad highlights different three-note combinations from the Dorian scale, and all of them sound different. Triads are clear structures that sound strong to our ears, and they can generate nice linear interest when played over one chord. Once again, all of this is 100% inside the scale. Ex. 5 is how each triad sounds over the track, and Ex. 6 is my attempt to improvise with them.
Ex. 5
Ex. 6
If we could find all these possibilities with triads, it's logical to make the structure a little bigger and take a similar approach with 7 chords, or in this case, arpeggios. Naturally, all the diatonic chords will work, but I'll limit this next idea to just Dm7, Fmaj7, Am7, and Cmaj7. I love this approach because as you move further away from the Dm7 shape, each new structure takes out a chord tone and replaces it with an extension. I notice that I usually come up with different lines when I'm thinking about different chord shapes, and this approach is a decent way to facilitate that. Ex. 7 is a good way to get these under your fingers. Just ascend one shape, shift into the next shape on the highest string, then descend and shift to the next on the lowest string.
Ex. 7
Ex. 8 is my improvisation using all four shapes and sounds, but I lean pretty heavily on the Am7.
Ex. 8
This last concept has kept me busy on the fretboard for the last five years or so. Check it out: You can take any idea that works over Dm7 and move the other diatonic chords. The result is six variations of your original lick. In Ex. 9 I play a line that is 4–1–b3­–5 over Dm7 and then walk it through the other chords in the key. These notes are still in the key of C, but it sounds drastically different from playing a scale.
Ex. 9
In Ex. 10, I try to think about the shapes from the previous example, but I break up the note order in a random but fun way. The ending line is random but felt good, so I left it in.
Ex. 10
While all these concepts have been presented over a minor chord, you can just as easily apply them to any chord quality, and they work just as well in harmonic or melodic minor. Rewarding sounds are available right inside the harmony, and I am still discovering new ideas through these concepts after many years.
Though the above ideas won't necessarily be appropriate for every style or situation, they will work in quite a few. Developing any approach to the point that it becomes a natural extension of your playing takes considerable work and patience, so just enjoy the process, experiment, and let your ear guide you to the sounds you like. Even over just one chord, there is always something new to find.
From Your Site Articles
Related Articles Around the Web