Did Clapton Peak Too Early?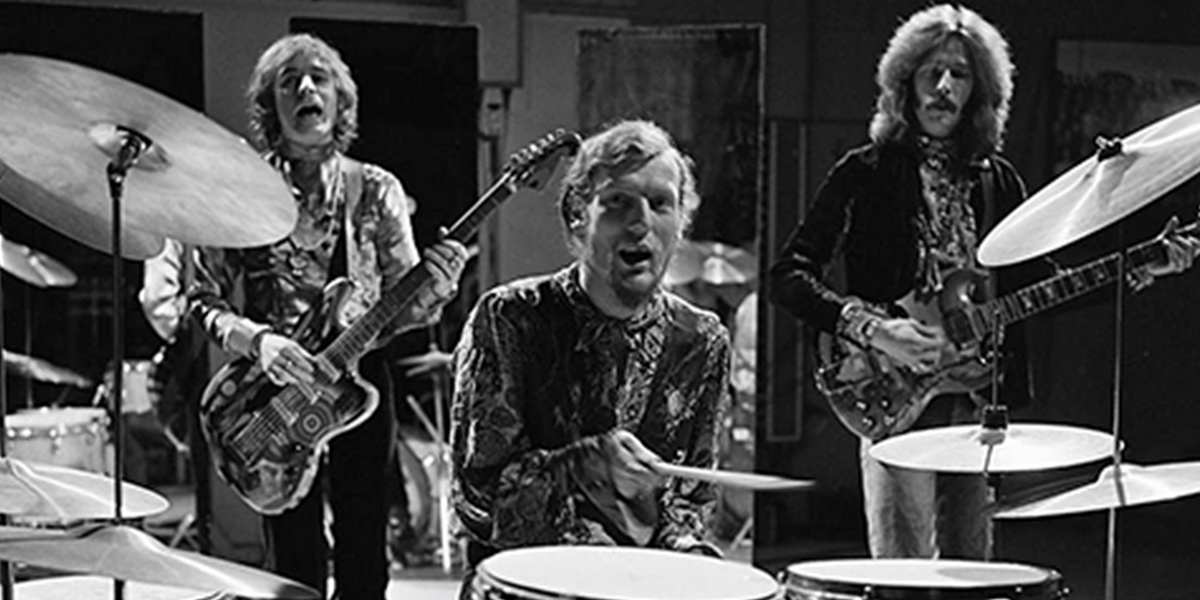 When it comes to Eric Clapton's guitar style, there is no shortage of masterful guitar techniques to dive into and study. In this article we'll focus specifically on his guitar style during the mid- to late-'60s around the formation of the band Cream.
---
At this point in the '60s, Clapton had just left his earlier band, the Yardbirds, and was moving on to change the course of his career forever. Cream was founded in London in 1966, and this was where they sparked a sound rooted in rock, blues, and psychedelia. While Clapton was adept at playing many styles of music at this time, the core of his playing was deeply rooted in the blues.
Clapton has always been passionate about incorporating the blues into whatever he is creating. His style is an evolution influenced by some of the greatest blues musicians of all time. His top influences are artists like the three Kings of the blues: Albert, B.B., and Freddie King, as well as Robert Johnson, Hubert Sumlin, Muddy Waters, Big Bill Broonzy, T-Bone Walker, Chuck Berry, Jimmy Reed, Otis Rush and more.
Clapton's Blues-Rock Rhythms
Let's dive into Ex. 1 where we'll look at a 12-bar blues in the key of A. We are going to use a bass-note chord stab combined with single-note pentatonic playing and hammer-ons.
Ex. 1
Right away you'll notice the use of a "quick IV" chord in the second measure. This is a staple of the blues. A quick four is where you immediately change to the IV chord in the second measure of the chord progression. Here, Clapton would typically play a dominant 9 chord shape. Using the dominant 9 conveys a "Stormy Monday" Walker-style guitar influence.
However, in contrast to Walker's guitar style, Cream-era Clapton would be using much more distortion on his guitar tone.After the initial two eighth-notes played as a bass part, you have the chord stab on beat 2. This short staccato hit creates a backbeat feel like a snare drum hit. From there, Clapton would often continue with a repetitive riff similar to the one played in beats 3 and 4 of every measure of this example.
This type of guitar part is ideal for playing in a trio with just one guitarist. Flipping between chords and single-note lines creates the illusion of two guitar players. Clapton employed this concept extensively, and it was an underlying element to Cream's full band sound, despite it only being a trio. Examples of this style of playing can be heard in tunes like "Badge," "Lawdy Mama," and "World of Pain," among others. Clapton would often add a little bit more bite to the progression with the altered dominant E7#9 and D7#9 chord shapes. This is a sound Hendrix was also very well known for.
Ex. 2 doesn't follow the standard 12-bar blues chord progression. Instead, we are playing a vamp. Often, Cream would create these short sequences of chords. In this example, we are moving from the I chord to the IV chord in the key of A.
Cream's vamps created a hypnotic quality to their sound and gave the musicians a platform to solo over, and perform extended versions live when the studio versions just faded out. Notice the same use of the short staccato backbeat hit, but now it also incorporates hammer-ons and double-stops. This type of guitar part showcases Clapton's seamless ability to blend rhythm and lead styles.
Ex. 2
Unison String Bends
Ex 3 and Ex. 4 explore the concept of unison string bends. This is a sound used extensively by countless blues greats. It started with players like Walker, Berry, and Rush. Later, this technique continued its path straight into rock music. In contrast to those earlier players, Clapton would use more distortion and evoke a much more searing aggression to his sound with Cream.
Ex. 3
Ex. 4
In Ex. 5 we'll play the same thing as Ex. 4, but this time add in a wah pedal. By combining the use of the wah pedal and techniques like unison string bends, Clapton created a signature vocal quality to his guitar sound. This made his solos really stand out.
Ex. 5
Clapton used a wah pedal extensively with Cream, however he didn't just reserve it for lead guitar parts. There are many examples of chordal and rhythm guitar parts he played with the wah pedal too. For these types of guitar parts, Clapton would use the wah pedal in more of a fluttering style to achieve psychedelic sounds.
Ex. 6 showcases a Cream-style psychedelic chord progression with the wah pedal sweeping back and forth. Also note the subtle time signature change. Cream had many songs that had more complex time signatures and rhythmic variations. For example, have a listen to the opening section of "White Room" for a taste of some classic rock in 5/4.
Ex. 6
Double-Stops
Another essential technique for Clapton in his lead and rhythm styles is the use of double-stops. Ex. 2 demonstrated how Clapton might play double-stops combined in a rhythm guitar part. Next, we'll explore how he would use those same techniques for soloing.
Ex. 7 shows a double-stop technique like the unison string bends, but this time we'll be bending both notes of the double-stop.
To do this, Clapton would typically use his fretting hand third finger to bar down and cover the notes on the 3rd and 2nd strings. With this technique he would bend them up and then release them back down. A great example of this can be heard in the solo for "Sunshine of Your Love."
Ex. 7
Ex. 8 shows a way Clapton would use a partial double-stop in a solo to build energy and excitement through a repetitive figure. Here this riff is played on the higher strings, but Clapton would also use similar phrases on the middle strings as well. You can hear examples of this type of lick in the live version of "Crossroads," and also in the ending solo for "White Room."
Ex. 8
Ex. 9 demonstrates Clapton's blending of blues and rock while using double-stops. This type of triplet phrase combined with the double-stops is a staple for many blues musicians. They'll often use this as a turnaround lick. Clapton continued to play this type of phrase in many of his popular tunes and solos throughout his career.
Ex. 9
Arpeggios
Another must-know Clapton technique that he employed throughout Cream's catalogue is arpeggio picking. Ex. 10 demonstrates a descending Clapton-style chord progression with arpeggio picking. This type of guitar part can be heard in tunes like "Dance the Night Away," which was played on a 12-string. Clapton continued to develop this style throughout his career, and this type of picking through chord changes is prevalent in some of his most famous guitar parts.
Ex. 10
Often Clapton would use this type of playing for descending chord progressions. Ex. 11 shows another use of this style with a very common classic-rock chord progression.
Ex. 11
These influential techniques have paved the way for generations of new musicians. Whether you're just starting out in this style, or you've been playing it for years, returning to some of these core concepts and applying them in your own music will surely pay off in years to come.
From Your Site Articles
Related Articles Around the Web