WD Blue SN550 NVMe SSD: Give yourself a storage upgrade WD Blue SN550 NVMe SSD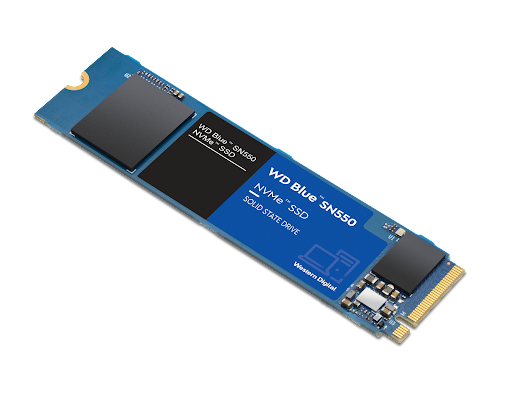 When it's time to get to work or dive into a creative project, there are various parts of your PC that can slow you down. Your choice of storage can play a huge part in how quickly you're able to do everything from booting your operating system and launching apps to loading up large media files. If you've been feeling the lurch from your system, the WD Blue™ SN550 NVMe™ SSD offers a simple way to speed things up.
The WD Blue SN550 NVMe SSD runs on the PCIe® interface and has a small footprint, making it a possible upgrade for everything from workstation PCs and laptops to even thin-and-light ultrabooks. And, with the cost-effective pricing Western Digital® offers on this drive, you can give yourself a storage upgrade with plenty of space without breaking the bank. The WD Blue SN550 NVMe SSD comes in capacities ranging from 250GB* all the way up to 2TB to fit a variety of storage needs.
It's not just space you're getting, though. Using the extra bandwidth over the PCIe interface, the WD Blue SN550 NVMe SSD can deliver sequential read speeds up to 2,600MB/s** (2TB model). For reference, that's more than four times the speed offered by even Western Digital's own older SSDs that relied on a slower SATA connection, which tops out at around 560MB/s**. With these speeds, you won't find your computer crawling to pull big files into your creative or work applications. Whether it's 4K video editing or CAD, the WD Blue SN550 NVMe SSD offers the space to hold your projects and the speeds to keep going quickly.
This drive has an extra bonus for anyone working on a mobile workstation. Thanks to the efficiency and low-power usage of the WD Blue SN550 NVMe SSD, laptops can see extended battery life. And, if you opt to remove a traditional hard drive inside your laptop, you'll get a bit of extra portability from the removed weight. And, the WD Blue SN550 NVMe SSD has no moving parts to help protect against data loss if it is accidentally bumped or dropped.
The WD Blue SN550 NVMe SSD is also ready for longevity. The SSD is built to last up to 600 full drive writes*** on the 250GB*, 500GB, and 1TB models, which would amount to writing 600TB onto the 1TB model. So, if you're ready to upgrade, check out the WD Blue SN550 NVMe SSD here.
Western Digital and WD Blue are registered trademarks or trademarks of Western Digital Corporation or its affiliates in the U.S. and/or other countries. The NVMe mark is a registered trademark of NVM Express, Inc. PCIe is a registered trademark of PCI-SIG in the United States and/or other countries. All other marks are the property of their respective owners.
Product specifications subject to change without notice. Pictures shown may vary from actual products.
* 1GB = 1 billion bytes and 1TB = 1 trillion bytes. Actual user capacity may be less depending on operating environment.
**For transfer speeds, 1MB/s=one million bytes per second. Performance will vary.
*** TBW (terabytes written) values calculated using JEDEC client workload (JESD219) and vary by product capacity.
© 2021 Western Digital Corporation or its affiliates. All rights reserved.