What Happened to J Mascis' Jazzmaster Addiction?
Dinosaur Jr. has long had a home with fans of fuzzy indie rock, but they've also never sounded quite like any other band. The sour/sweet juxtaposition of J Mascis' gentle, reedy vocal textures against his hallmark wall of swirling, violently massive guitars isn't without precedent, yet in the context of Dinosaur Jr.'s music it's always stood out as something unique and genuine—and it's had a major influence on the hordes of contemporary artists chasing the alt-rock glory of the '90s.
---
The Massachusetts-based trio has had three distinct periods as a band, yet Mascis' earnest songwriting and equally vicious, noisy, and melodic guitar have always been the eye around which the band's sonic hurricane revolves. He is a revered tone hunter, a passionate student of rock's grimy past, and a prolific gear collector. Weaned on a steady diet of '80s hardcore punk, '70s proto metal, and especially Stooges records featuring Ron Asheton's primal guitar work, Mascis has a style—particularly in his soloing, which feels like a 6-string stream-of-conscious monologue—that's unmistakable.
Dinosaur Jr. – Full Performance (Live on KEXP at Home)
Dinosaur Jr.'s original lineup of Mascis, bassist Lou Barlow, and drummer Emmett Jefferson Murphy III (known as "Murph" to everyone but the government) formed in 1984 in Amherst, Massachusetts, and put out three highly influential albums before splintering. Mascis continued to make Dinosaur Jr. recordings, chiefly by himself, until 1997, at which point he began a solo career in earnest. However, Dinosaur Jr.'s founding triumvirate unexpectedly reunited in 2005. And the band's third act has added four critically acclaimed albums to its discography—now followed by an inspired and vibrant fifth, the new Sweep It Into Space.
Mascis has historically been downright negative about the role producers play, however, this time the band opted to call in friend, fan, and prolific singer-songwriter Kurt Vile to help bring Sweep It Into Space to life. Mascis says that, unlike the typical artist-producer relationship, Vile's role was more like a fourth band member and cheerleader. "Kurt was good because he likes the band already and wasn't really trying to tell us anything to do. He was mostly playing and singing different parts to the songs, and if I liked them I'd put 'em in. Kurt was also a good vibe guy and I think he made the other guys feel a little more comfortable, because we can get a little tense when we record. Kurt kept the vibe good." Mascis adds that he and Vile have similar tastes as guitarists, and that "if we were both being interviewed, you'd hear some similarities in the things we like from the past."
I bought a Les Paul Deluxe just because I was in Thin Lizzy mode. That was an interesting new purchase, and I played some rhythm stuff on the album on that guitar.
So many high-profile reunions fail to yield strong new albums, let alone five. Sweep It Into Space elaborates on the magic of Dinosaur Jr.'s beloved early output. It's a pure representation of Mascis' songwriting, with the classic Murph and Barlow support, and every track is a feast for fans of Mascis' guitar work. From the jangle and bash of opener "I Ain't" to the hulking, Black Sabbath-informed riff that opens "I Met the Stones" to the layered acoustic guitars and blazing solos that punctuate throughout (particularly the burners on "Hide Another Round" and "N Say"), Sweep It Into Space finds Mascis at the peak of his prowess. Though Mascis claims not to have noticed any specific changes in his playing throughout the pandemic's isolation, he did find himself on a serious Thin Lizzy kick he admits probably found its way onto the new album (perhaps as manifested by the harmonized leads on "I Ran Away").
"I was watching a lot of Thin Lizzy videos. My friend Graham [Clise] that's in [side-project] Witch with me told me to watch this video of Gary Moore on [BBC TV program] The Old Grey Whistle Test, and his backup band is Scott Gorham, Phil Lynott, and Cozy Powell on drums, and he's really ripping in that! That video led me to get more into Thin Lizzy, because it sounded a lot like [MC5 guitarist Fred "Sonic" Smith's band] Sonic's Rendezvous Band or something that was definitely up my alley. I bought a Les Paul Deluxe just because I was in Thin Lizzy mode. That was an interesting new purchase, and I played some rhythm stuff on the album on that guitar."
TIDBIT: While much of Sweep It Into Space was recorded before the pandemic, Mascis also tracked alone at home. "Quarantine made me a better engineer, if anything."
Mascis is a renowned gearhound, so it's no surprise he picked up some new old guitars over the course of the pandemic. However, the big news in Mascis' gear world is his latest collaboration with Fender: a signature Telecaster based on his favorite 1958. Mascis' wildly popular signature Squier Jazzmaster was first put into production in 2011 and is considered by many offset fans to be the best bang-for-buck Jazzmaster available. But despite the role Mascis has played in popularizing Jazzmasters by playing vintage models live since Dinosaur Jr. began, the guitar Mascis has relied upon for the lion's share of the iconic solos heard on the band's albums is indeed that very special '58 Tele, which sports a blue-sparkle refinish, mirror pickguard, jumbo frets, and a "top-loader" bridge. The new Road Worn Series J Mascis signature Telecaster immortalizes that guitar and its unique features in a relatively affordable package.
J Mascis' Gear
Another new gear switch-up: Whereas Mascis blasts through a wall of Marshall and Hiwatt stacks live, for the new Dinosaur Jr. album, he relied on a Vox AC30 and Fender Bandmaster instead.
Photo by Jim Bennett
Guitars
Fender J Mascis Signature Telecaster
1958 Fender Telecaster
1972 Gibson Les Paul Deluxe
Ernie Ball Music Man St. Vincent
Amps
Vox AC30 AC30HW2 Hand-Wired reissue
1×12 cab with Tone Tubby Hempcone Speaker
Tweed Fender Bandmaster
Effects
Jerms Tone Bender MkI clone
Chase Bliss Brothers
Jam Pedals RetroVibe
Lovetone Cheese Source
Lovetone Meatball
Wren and Cuff J Mascis Garbage Face fuzz
Bad Cat X-Treme Tone
Strings & Picks

Ernie Ball Regular Slinky (.010–.046)
Dunlop Tortex 1.12 mm
Rig Rundown – Dinosaur Jr.'s J Mascis and Lou Barlow
So, for a guy whose name is synonymous with the Jazzmaster, what exactly is it about that old blue Tele that's made it his go-to when it comes time to lay down a solo? "I seem to play differently on a lot of guitars, which is another reason why I like to buy different guitars. I come up with different things, and maybe the guitars have some songs in them already. On that Tele, I find my solos are more interesting. If I play the same solo on a Strat, it just sounds like a Strat to me. It's slightly more boring somehow? I don't know where my brain or fingers go or why that happens, but I usually find that if I play solos on different guitars for the same song, the stuff I play on that Tele is always more interesting. The top-loader was the first Tele I really bonded with, and it was about the feel. When I pick up Teles with string-through-body bridges, the strings are a little harder to bend. People say the top-loaders don't have as much sustain, but I never thought of a Tele as a sustain guitar anyway, and when you hit a Big Muff, every guitar has sustain. So that argument doesn't really work for me."
People say [Telecaster] top-loaders don't have as much sustain, but I never thought of a Tele as a sustain guitar anyway, and when you hit a Big Muff, every guitar has sustain.
Sweep It Into Space came together right before the pandemic began to shut things down. While all of its songs were fundamentally tracked by the time lockdowns began, Mascis had to capture some of his solos and overdubs at home and was forced to learn Pro Tools in the process. "I guess quarantine made me a better engineer, if anything," he says. "I did some 12-string guitar overdubs and recorded some solos myself." Although, live, Mascis is often photographer-slamming his sound through a confrontational trio of Marshall and Hiwatt stacks, recording himself led to a different option. "I tended to use a handwired AC30 head, because it has a master volume. Because the amp was right next to me, I could make it really quiet with the master volume, which really helped out. I think I played it through a cab with one of those Tone Tubby hemp speakers."
Dinosaur Jr. (left to right): Bassist Lou Barlow, J Mascis, and drummer Emmett Jefferson "Murph" Murphy III.
Photo by Cara Totman
Another reason Mascis fired up his Vox is that he prefers the way AC15s and AC30s handle fuzz pedals for recording. "I tend to always want to put the mic right on the speaker, and lately I've tended to favor a Vox amp for fuzz. I like the way fuzz hits a Vox amp. It seems to work well with them and it's never that loud when I record, so it's very different than how I get that sound live. I'm trying to recreate maybe the live feel, but it seems much easier to get a cool sound at a lower volume so the mic can handle it." Mascis also says that it's usually a germanium Tone Bender MkI that he reaches for as a starting point for his recorded fuzz sounds, and seldom the Big Muffs he loves live. However, the guitarist is still happy to experiment. "I tend to add different things to that, and I usually always stack fuzzes together to come up with a cool sound."
The only time I'll ever reach for a slide is if I think a song really needs it, because I'm not very good at it.
Interestingly, while the main riff on "I Met The Stones" features one of the most savage guitar sounds on any Dinosaur Jr. release, no fuzz pedals were involved in shaping the track's core tone. "That song I ended up playing in C# … and I think I was using a St. Vincent signature Ernie Ball guitar, because it seemed to play in-tune well at that pitch. A lot of those rhythm parts are on that guitar through a tweed Fender Bandmaster. I think the sound on that song is mostly from the amp and the mini-humbuckers in that guitar."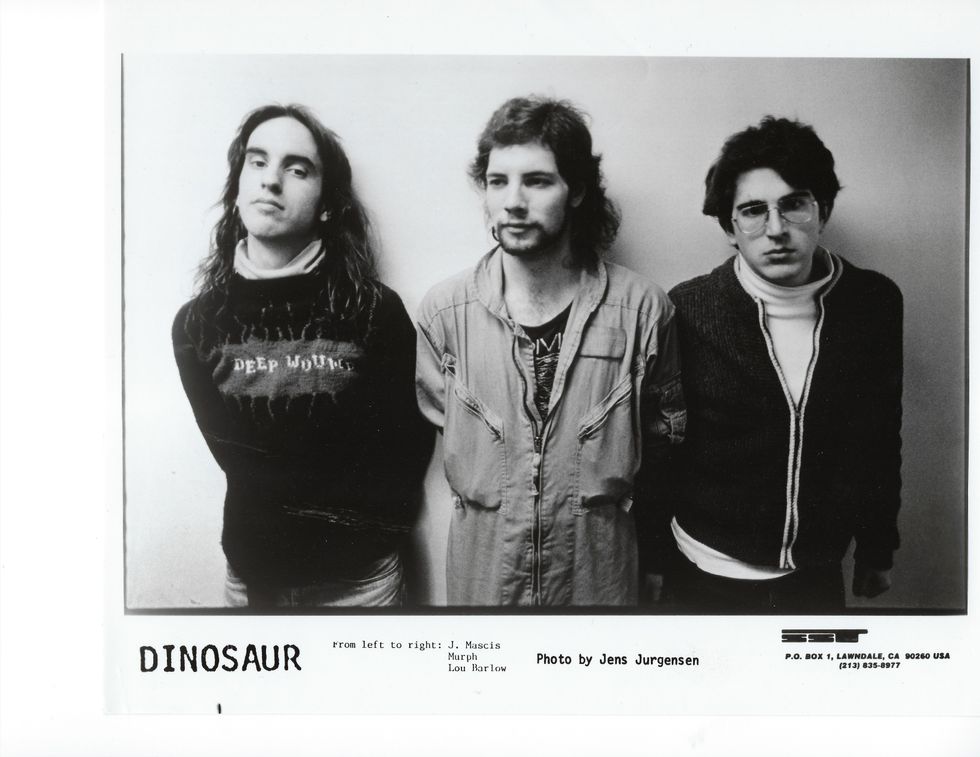 A 1987 SST Records press photo of Mascis, Murph, and Barlow before a name dispute caused them to add the lovably diminutive appellation to their moniker.
Even though Dinosaur Jr.'s reinvigorated trio lineup has proven yet again to be a fertile and stable partnership with Sweep It Into Space, in 2019 Mascis revisited the major-label releases the band put out during Murph and Barlow's mid-'90s absence, with a series of vinyl reissues. Given that project's proximity to Into Space, one can't help but wonder if any ideas from that '90s output seeped into the new album's tunes. "You definitely hear some songs, and it's like you didn't remember some of them at all," he says. "It's interesting when you record a song and never play it live and then hear it again 20 or 30 years later. You sometimes don't remember much about it. So it was cool to hear them again and wonder what I was thinking about when I wrote them. 'How'd You Pin That One on Me' off of Green Mind has a lot of slide, and the only time I'll ever reach for a slide is if I think a song really needs it, because I'm not very good at it. So it's interesting to hear myself playing slide. I usually don't like listening to people playing slide unless it's someone very specific. Something about slide guitar doesn't appeal to me that much. I like Mick Taylor's slide stuff, which wasn't too crazy."
The major-label years of the mid '90s had stranger things in store for Dinosaur Jr. than an unexpected slide guitar part, though. For example, the band made its television debut on Late Show with David Letterman in 1993, at a time when Letterman's house band typically backed up the show's musical guests. The performance saw Mascis and company rip through an impassioned, barnstorming version of "Out There," with Paul Schaffer and the rest of the Letterman band jamming along, And while that in itself is YouTube gold for fans of rock oddities, it gets better. David Sanborn spends the entire song blowing the living hell out of his saxophone from a perch in the background. It's a weird sound, but one that actually kind of works. Mascis remembers the experience fondly. "I was trying to encourage David Sanborn to jam out on the song, and all those guys are just sitting there, so I figured he might as well just play and see what it sounds like. I remember it being good, but I also remember a few sax notes seeming out of tune … which was surprising for Sanborn."
From Your Site Articles
Related Articles Around the Web