MacBook Black Friday 2021: The best Black Friday deals on MacBook Pro and MacBook Air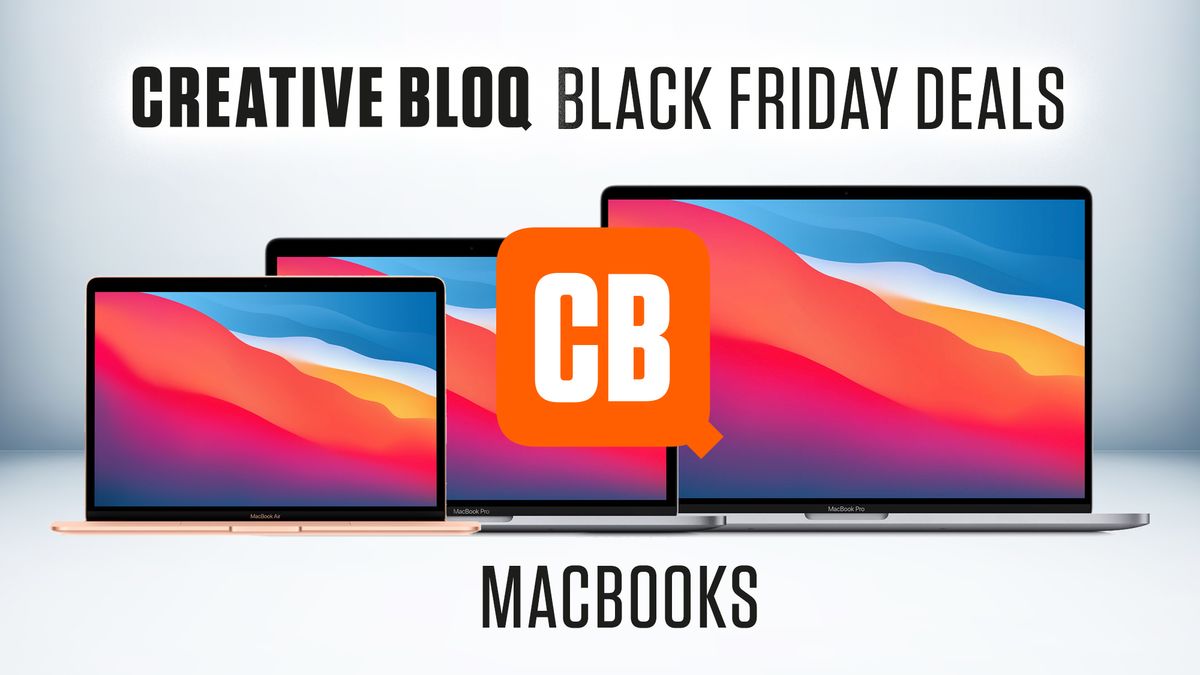 If you're after MacBook Black Friday deals then this is the place to be. Black Friday 2021 is just a month away and it's the ideal opportunity to set yourself up with the MacBook of your dreams, whether you're after the full MacBook Pro experience or the slimline delight of the MacBook air.
Apple's introduction of the M1 processor family to its MacBook range has changed everything, with unprecedented levels of performance on tap. The very latest blazing-fast 14-inch and 16-inch MacBook Pros are unlikely to see significant discounts for Black Friday 2021, although we wouldn't be surprised to see a small discount like we did with the then-new M1 MacBook Pro and MacBook Air last year. We're already seeing deals on these older M1 models this year, and there could be bigger and better discounts to come.
Whether you're after a deal on the latest hardware or open to a bargain on an earlier MacBook, here's where you'll find it. We'll be updating this page continually both before and during Black Friday 2021 to provide direct links to all of the best MacBook Black Friday deals. For now, scroll down to see the best current deals available ahead of the sale, and a list of retailers to keep an eye on, but make sure you bookmark this page and come back later to see the best deals as they appear.
For other products see our guides to the best Black Friday sales overall and the best Apple Black Friday deals too. We also have a page dedicated to MacBook Pro deals.
When is MacBook Black Friday 2021?
Black Friday comes around the day after Thanksgiving in the US, which means that Black Friday 2021 will be happening on 26 November, with Cyber Monday happening three days later on t29 November. However that doesn't mean you need to wait until then to find the best MacBook Black Friday deals.
It's hard not to have noticed that retailers are kicking off their Black Friday sales earlier every year to beat the rush, and that means that you should be able to find worthwhile discounts any time from now onwards. Of course a lot of retailers will hold on to the best deals until Black Friday or Cyber Monday, but you can never be sure if anyone's going to jump the gun with an unmissable discount. We'll be tracking the best deals here, so if you see the MacBook you want at a great price ahead of Black Friday, it may well be a good idea to snap it up now ahead of the crowd.
How to get the best MacBook Black Friday deals
As we've mentioned, while Black Friday and Cyber Monday are the main events, there could well be some great MacBook Black Friday deals earlier in November. Trouble is if they're particularly decent discounts then they'll sell out fast, and you don't want to miss out. So a good strategy is to decide which MacBook you want and how much you're willing to spend, then if you see a deal that suits you, you'll be ready to jump in and buy before it's gone.
Bookmark this page and check back regularly before and during the sale period because we'll be updating it continually with the best Black Friday MacBook deals as they go live.
Why MacBook should you go for? They're all brilliant machines. The MacBook Air is more slimline and ideal for working on the go, while the MacBook Pro is the best all-round work machine, capable of coping with just about anything you could throw at it. If you don't want to stretch to the latest models, you could also consider an earlier version (start checking the specs now) and pairing it with one of the best external hard drives and SSDs for extra storage.
Where to get the best MacBook Black Friday deals
Pro tip: don't bother going to the Apple Store. Apple doesn't really do Black Friday or Cyber Monday discounts, and instead offers gift cards redeemable against future purchase. So if you want to save cold, hard cash you'll have to go elsewhere. Luckily plenty of retailers in the US and UK have offered big MacBook Black Friday deals in the past. We'll be linking directly to all of the best offers that appear on this page to save you from having to check every retailer.
However, if you do have the time to hunt out deals yourself, here's a list of sites that are well worth trying:
The best MacBook Black Friday deals
The best Black Friday MacBook deals: US
The best Black Friday MacBook deals: UK
MacBook Black Friday: MacBook Pro deals
Black Friday's usually a good opportunity to snap up an older MacBook Pro at a knockdown price as retailers try to clear their stock to make room for the latest, fastest models. Last year, though, saw small discounts on the brand new M1 models as well as bigger savings on the the 2019 range, so anything's possible this year if you're after MacBook Pro Black Friday deals. We've already spotted deals on the 2020 M1 MacBook Pros this year, and we may even see small discounts on the new 14- and 16-inch MacBook Pros around Black Friday. Fingers crossed!
Check the best current prices in your region in the widgets below, and check back here for specific deals as they emerge.
MacBook Black Friday: MacBook Air deals
The MacBook Air saw some good discounts over Black Friday and Cyber Monday in 2020, but mostly in the US. The MacBook Air might be the least powerful MacBook, but in its new M1 configuration it's quite the powerhouse, and fantastically slim and light, too. Read on for today's best Apple MacBook Air deals right now, and to see the best prices in your region right now.
Related articles: