The best Black Friday iPad deals 2021: Save on iPad, iPad Pro, iPad Air and iPad mini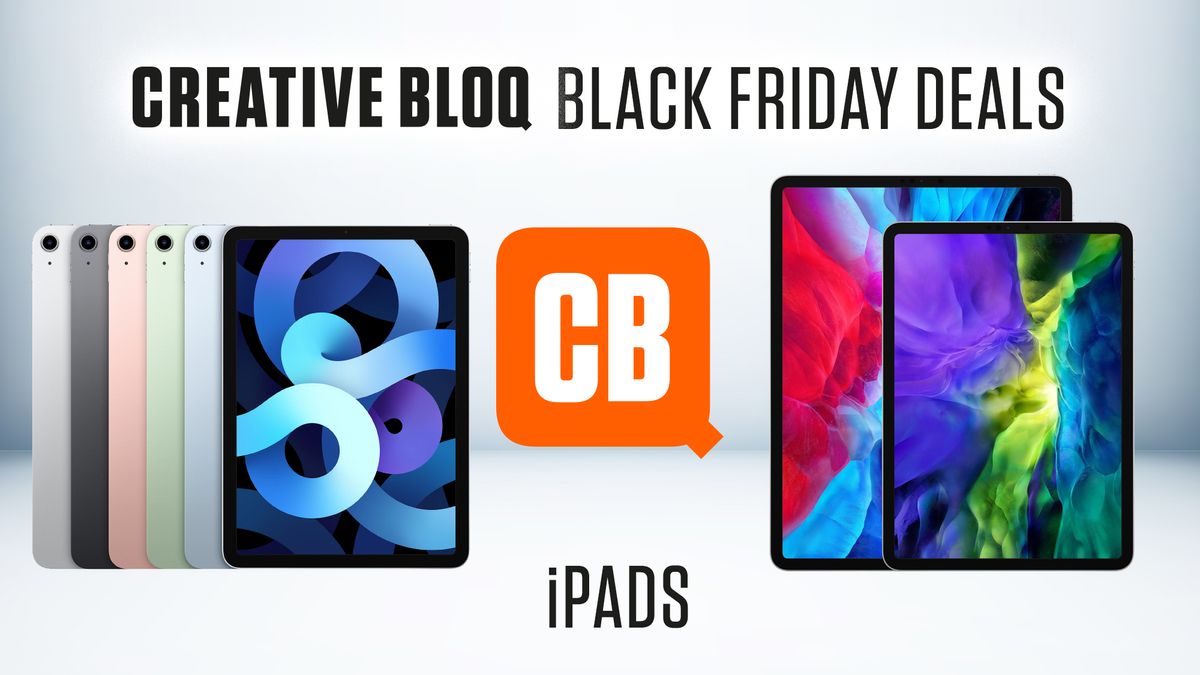 Black Friday iPad deals 2021
Finding the best Black Friday iPad deals is the best way to save money on top tablets. Whatever model you're after, the next few weeks leading up to Black Friday is the ideal time time to buy, and we're already hunting out the best bargains to be had and listing them right here.
Last year saw Black Friday iPad deals happening earlier than ever before, and that's a pattern that seems to be repeating this year. There are savings already available on the shiny new M1 iPad Pro, and we're expecting plenty more discounts to be had across the entire iPad range before Black Friday itself.
Whether you want a cheap iPad, iPad Pro, iPad Air or iPad mini this Black Friday, bookmark this page and check back regularly for updates. Want even more great deals? Don't miss our roundup of the best Apple Black Friday deals, which has all the best discounts on MacBooks, Apple Watch, AirPods and more. Or see our dedicated MacBook Black Friday hub.
Black Friday iPad deals: when is Black Friday 2021?
As we all know by now, Black Friday comes the day after Thanksgiving in the US, which means that Black Friday 2021 will take place on 26 November, with Cyber Monday following on 29 November. Any time between those dates are when you're likely to see the most impressive Black Friday iPad deals.
However as you've doubtless noticed over the last few years, the Black Friday deals tend to start well in advance of the big day, with retailers bringing out their bargains throughout the month of November. And while they'll likely hold back the biggest discounts for the Black Friday weekend, there's a good chance that there'll be some worthwhile Black Friday iPad deals throughout the month.
The best bargains, however, tend to sell out straight away, so you still have to be quick off the mark. We advise checking back to this page from now on, as we're already seeing retailers launch early Black Friday deals.
Black Friday iPad deals: How to find the best deals
Black Friday 2021 is set to be a little difference from previous years. With supply issues around the world, substantial Black Friday iPad deals this year will probably be a little rarer than usual and possibly time-limited, with the biggest bargains getting grabbed quickly. This means that if you're set on finding a cheap iPad this year you're going to need to move fast, so keep checking this page where we'll let you know about deals as soon as we spot them.
One good way to ensure you can be quick if a deal appears is to think beforehand about what iPad you're after. Do you want a standard iPad, a Pro, a mini or an Air? How much storage do you want? Does it need to be cellular, or will WiFi do? Remember that retailers often unload older models at knock-down prices on Black Friday, so decide whether you're interested in that.
Black Friday iPad deals 2021: How much can you save?
Apple isn't exactly renowned for lopping huge percentages off its prices, so you need to be realistic about how much of a saving you're looking for with Black Friday iPad deals. iPad discounts tend to go to a maximum of 40% off but that sort of discount's the exception rather than the rule, and it probably means settling for older kit. However you're still likely to see some worthwhile savings; even 10% off a newer iPad Pro adds up to a decent discount, and ultimately any kind of deal is a welcome opportunity.
Last year, we saw a lot of Apple Black Friday deals on iPads at third party retailers, such as Walmart and Best Buy in the US shoppers and Currys, eBay, John Lewis, Laptops Direct and Amazon in the UK. Last year, Laptops Direct, for example, had £174 off the latest iPad Pro. Therefore, we'd certainly keep an eye on these outlets on Black Friday and Cyber Monday this year.
Which retailers offer Black Friday iPad deals?
First off all, don't waste your time heading to the Apple Store to search for Black Friday iPad deals. Instead of discounts, Apple generally offers Black Friday gift cards to be redeemed against later purchases. Luckily there are plenty of other retailers willing to knock some money off the price of your new iPad. In the US, Walmart, Best Buy, Amazon and B&H Photo are often worth trying. In the UK, Currys, eBay, John Lewis and, again, Amazon are all good places to look for iPad deals.
Of course, the easiest way to keep an eye out for the top deals is to keep checking this page. We'll save you from having to continually scan all the major retailers' sites by linking directly to the best Black Friday iPad deals as they appear. Just bookmark this URL and keep checking back!
The best pre-Black Friday iPad deals
The best pre-Black Friday iPad deals in the US
The best pre-Black Friday iPad deals in the UK
Black Friday iPad Pro deals
A new iPad generally means discounts on older versions, and the 2021 iPad Pro with Apple's super-fast M1 chip is just the ticket if you have your heart set on a 2020 model at a reduced price, and we're already starting to see some decent savings. Even more excitingly, though, we're already seeing some deals on the brand new models, with hopefully more to come as we approach Black Friday,
The 2020 iPad Pro comes in two versions: the iPad Pro 12.9-inch (2020) and the iPad Pro 11-inch (2020). Both boast powerful A12Z Bionic processors, impressive battery capabilities, and a variety of storage options. The larger version offers more screen real estate, while the smaller model is obviously more portable.
There are plenty of older iPads to choose from, too, and the 2018 iPad Pros are still-popular models that are currently seeing some decent discounts. Here are the best Cyber Monday iPad Pro deals from 2020. Also check out our price widget, which pulls in the best prices in your area.
Black Friday iPad deals
The basic iPad is the least exciting member of the iPad lineup right now; it's even been overshadowed by the impressive iPad mini 6. However it's also the cheapest in the range and a thoroughly reliable performer with an A12 Bionic chip and support for Apple Pencil and the Smart Keyboard, so there's plenty to be said for seeking out a Black Friday deal. Below are details of all the best Black Friday iPad deals available now.
Black Friday iPad Air deals
We weren't expecting hefty discounts on the newest iPad Air over the Black Friday weekend last year, but we were happily proved wrong. And this year you're likely to find even more impressive deals on the Air as it starts to show its age, particularly next to the 11-inch M1 iPad Pro. Here are the best iPad Air deals right now.
Black Friday iPad Mini deals
The iPad mini was still in the doldrums last year, but there were some great iPad mini Black Friday and Cyber Monday deals to be had. This time around things are looking a little different, with the fantastic iPad mini 6 just launched. We're not completely discounting the possibility of deals on the mini 6, but if they happen they're unlikely to amount to much. What's more predictable is the possibility of some impressive deals on the 2019 model, which should definitely be worth investigating.
Black Friday iPad deals: Which iPad should I buy?
Which iPad is best for you? If you want maximum power, specs and screen size, then you'll want the top-of-the-range iPad Pro 12.9-inch (2021) with its M1 chip, and it's looking like you should be able to get a small discount on it this year.
The slightly smaller (and cheaper) iPad Pro 11-inch (2021) is another good choice for creatives, and has the same super-charged chip. Both iPad Pro models are available with 256GB, 512GB, 1TB or 2TB of memory for your photos, music and videos, and both work with the second-generation Apple Pencil, although you'll have to buy that separately. The Apple Pencil 2 attaches magnetically to the iPad, where it also charges and pairs, and it's one of the best styluses available for drawing digitally
Think about whether do you really want to pay extra for a cellular model. The alternative is to tether a Wi-Fi-enabled iPad to your phone, and use that for a mobile signal when you're away from Wi-Fi instead. Meanwhile, if you want to save even more money, and are not so fussed about screen size, or top specs, then the 10.2-inch iPad (2019) could be ideal for you. It's a lot cheaper, and has a still-impressive A10 chip and 2160 x 1620-pixel resolution. It supports the first generation Apple Pencil, and is available with 32GB or 128GB of memory.
Other iPads include the iPad mini (see our iPad mini review here), which has a A12 chip and 7.9-inch screen. It's extra portable, as the name suggests, and is compatible with the first-generation Apple Pencil. There's also the iPad Air, which has 10.5-inch display and also has an A12 chip, plus several older models of the iPad. The 2017 versions have previously been on sale over Black Friday, so there probably will be Black Friday iPad price-cutting on them again this time. However if you want to use your iPad for drawing then you'll want one with Apple Pencil support, which some of the older models don't offer.
Related articles: