Surface Pro Black Friday deals 2021: get early savings on Surface Pro 7, 8 and more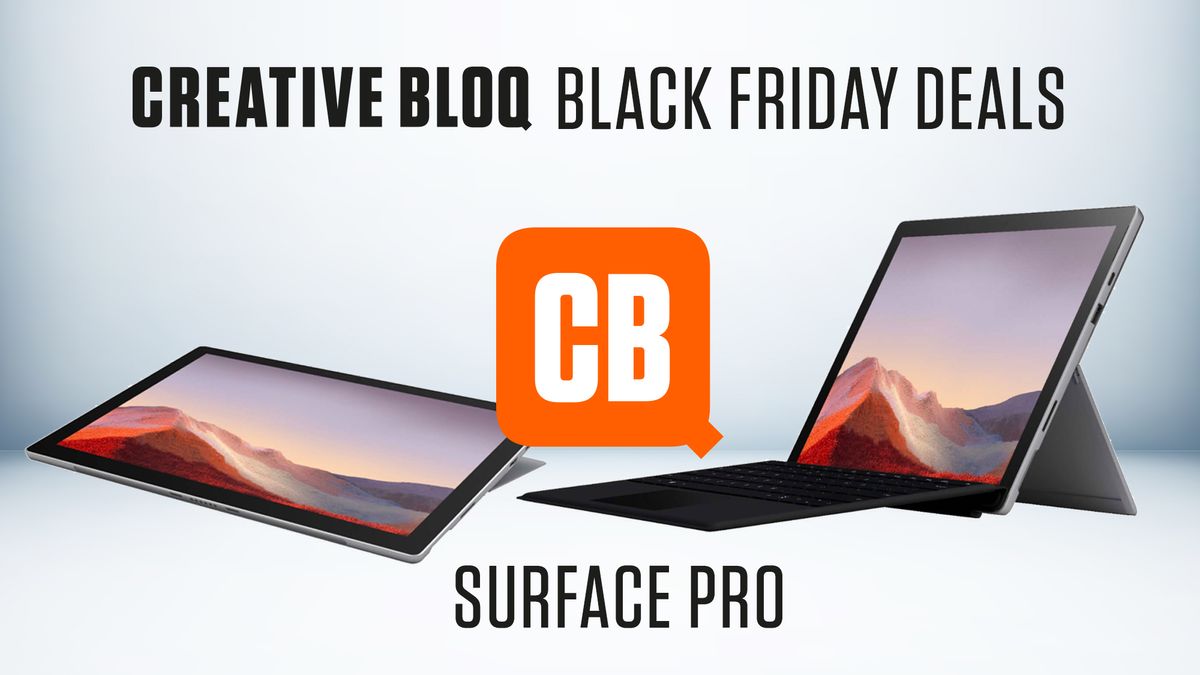 If you're a digital creative, Surface Pro Black Friday deals are the perfect chance to get your hands on Microsoft's hybrid tablet at a discount price. And with Black Friday 2021 around the corner, it's time to start thinking about the device you want to buy.
With Microsoft releasing the Surface Pro 8 recently, just weeks ahead of Black Friday 2021, we're expecting to see really good discounts on the older, yet still powerful Surface Pro 7, not to mention the Surface Pro 6 and Surface Pro X. It's less likely that we'll see Surface Pro Black Friday deals on the brand new model, but even that's not impossible (though expect modest discounts, if any).
As with previous years, you won't have to wait until Black Friday for all the best Microsoft Surface Pro deals. Many retailers are already offering discounts on the Surface Pro 7 and Surface Pro 6. See below for the best current deals, or click on the quick links to jump straight to deals in either the US or the UK. Then be sure and bookmark this page, as we'll be updating this page with the best offers as they appear.
If you're after more than just a Surface Pro, make sure you also check our guide to the best Black Friday deals in general.
Surface Pro Black Friday deals
Surface Pro Black Friday: when is it?
Black Friday takes place the day after Thanksgiving in the US, which means that Black Friday 2021 falls on Friday 26 November (and that whole weekend). Cyber Monday 2021 falls on the Monday afterwards: November 29. But that doesn't mean you need to wait until then to start looking for deals. In the last few years, retailers have been bringing forward Black Friday to get in ahead of the competition.
In the case of Surface Pro Black Friday deals, this might be even more likely in 2021. The reason is that Microsoft released its new Surface Pro 8 in October 2021, so retailers will most likely be looking to reduce their stock of earlier models, such as the Surface Pro 7 and 6. In fact, some are already offering attractive savings (see below). It's still likely that the absolute biggest discounts will come on Black Friday itself, but bear in mind that they tend to sell out very quickly. This is all good news if you're wanting a big discount on a quality tablet (bookmark this page to stay up to date with the best deals).
Surface Pro Black Friday: how to get the best deals
Whether you're in the US or the UK, and whether you're after a deal on the Surface Pro 7, the Surface Pro 6, or the Surface Pro X, we'll be providing regular updates on where to find the best prices. Our price-tracking tool alerts us to the best discounts as they go live, so that we can let you know about them immediately.
We'll be posting direct links to all of the best Surface Pro Black Friday deals right here on this page as soon as they appear. The best deals tend to sell out quickly, so to avoid missing out, bookmark this page and come back regularly to check the updates. That will save you from having to roam the internet checking the prices at each individual retailer.
If you do have the time to hunt out deals yourself, scroll down further to find our list of the best retailers to check. These are the sites that are most likely to offer good discounts, based on us covering Black Friday for several years now.
Advance Surface Pro Black Friday deals: US
Advance Surface Pro Black Friday deals: UK
Which retailers have Surface Pro Black Friday deals?
The retailers below are among the most likely to offer savings on the Surface Pro during Black Friday 2021. If you scroll down further, you'll also find our list of the best current prices, compiled by our price searching tool, which scans all of the retailers listed.
Surface Pro Black Friday: which Surface Pro to buy
The Surface Pro is Microsoft's line of hybrid tablets, which have optional detachable keyboard accessories and optional stylus pens. The latest models are the Surface Pro 8, which started to be released just in October 2021. The Surface Pro 8 boasts a slimmer profile than previous models, with much smaller bezels, and also more pixels in the 13in screen.
Being so new, the Surface Pro 8 is unlikely to come in for big discounts during Black Friday 2021, but it's still worth keeping an eye out. If any big saving does appear, it will be worth grabbing fast. However, Microsoft's earlier models, the Surface Pro X and the Surface Pro 7 and 6 still pack a punch and offer a handy portable hybrid tablet for creatives.
The Surface Pro X, which comes with the Microsoft SQ2 ARM SoC processor (a custom version of the Snapdragon 8cx, and the Surface Pro 7 are faster and more powerful than the Surface Pro 6, which is starting to date a little. However, you can expect to find some really cheap deals on the latter among retailers that still have it in stock new. See our full Surface Pro 7 review for more details, and see our Surface Pro 6 vs Surface Pro 7 comparison.
Related articles: