Wacom Black Friday 2021: save big on Wacom One, Intuos and Cintiq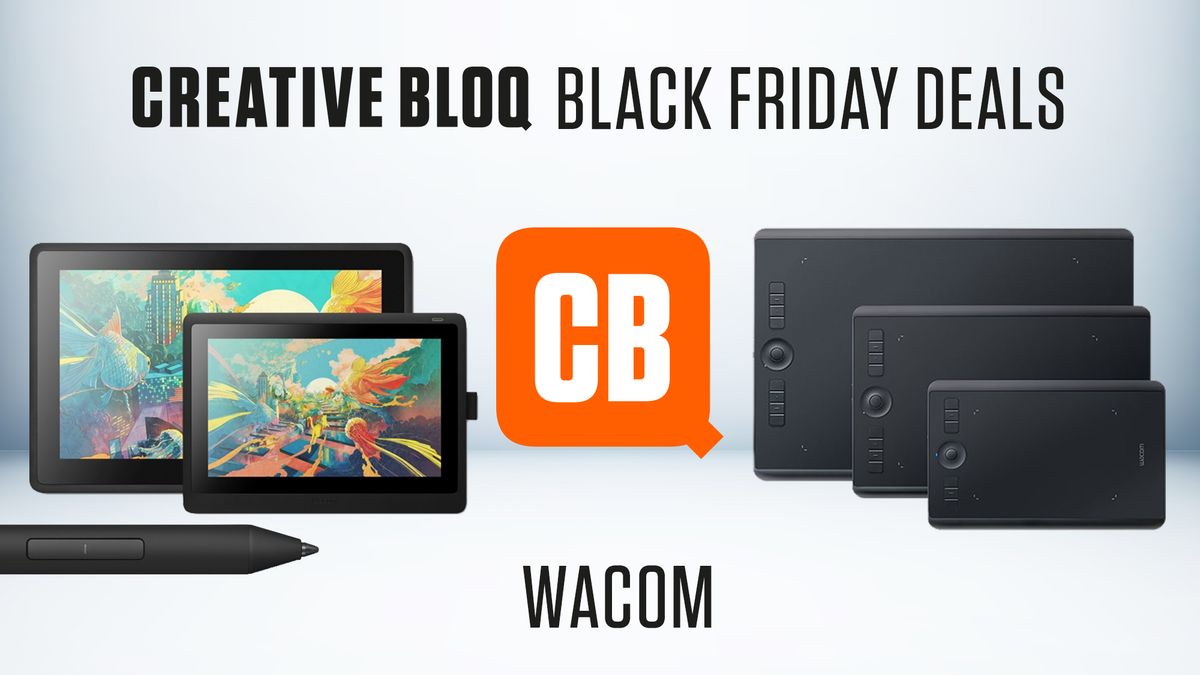 The Wacom Black Friday sale is fast approaching, so if you're considering buying a Wacom tablet, you might be wondering whether it's best to hold fire until the sale begins. The short answer is that it probably is. Whether you're planning on buying your first drawing tablet or upgrading an existing one, the Wacom Black Friday sale is when you're likely to get the best prices of the year.
Wacom's well established as the creative industry's favourite tablet brand. It makes both drawing tablets and full pen displays, and it has a wide enough range to offer tablets suitable for everyone from hobbyists to creative professionals and everyone in-between.
More recently, it's started to face increased competition from the likes of Huion and XP-PEN, both of which offer great drawing experiences at knock-down prices (see our Black Friday drawing tablet guide). This is great news for those that want the full Wacom experience because it means we're more likely to see serious discounts when Black Friday comes around. To save you having to hunt all over the internet to find them, we'll be posting all of the best Wacom Black Friday 2021 and Cyber Monday 2021 deals right here on this page as and when they appear, so come back regularly to check for the latest bargains.
It's already possible to find some decent deals on Wacom devices, and we've listed those below along with more about what to expect from Wacom Black Friday and Cyber Monday. If you're after more than just a Wacom tablet, make sure you also keep an eye on our full Black Friday 2021 page for top savings on a range of products for creatives.
The best Black Friday Wacom deals
Can't wait to make your purchase? These are the best current pre-Black Friday Wacom deals.
Black Friday Wacom Cintiq deals
See below for today's top early Black Friday Wacom tablet deals on the Wacom Cintiq range.
Black Friday Wacom MobileStudio Pro deals
The best Black Friday Wacom MobileStudio Pro deals currently available are listed below:
Black Friday Wacom One deals
The Wacom One is a popular choice with creatives, and we're expecting a range of deals over Black Friday. See today's top offers below:
Black Friday Wacom Intuos deals
Check out today's early Black Friday Wacom Intuos deals.
Black Friday Wacom One by Wacom deals
If you're after a Wacom One, either today, or on Black Friday or Cyber Monday, see below for today's best prices.
In 2021 Black Friday will fall on Friday 26 November, and Cyber Monday comes hot on its heels on Monday 29 November. However, as we've seen in previous years, the deals will start long before the official dates. In recent years retailers have been launching their Black Friday sales increasingly early to get ahead of the rush, so you can expect to see early Black Friday savings from, well, right now.
That said, sometimes retailers will hold off on their very best deals until Black Friday or Cyber Monday. You have to judge how good each deal is to decide whether to sweep for an early saving or hold on in the hope that a better discount might appear. If you spot an early discount here that's particularly good, it could be best to snap it up rather than risk missing out completely.
To quickly find the best Wacom Black Friday deals without having to spend hours checking every retailer for yourself, your best bet is to keep coming back to this page. We'll be updating it throughout the sale period with direct links to the best Wacom Black Friday deals as they appear to save you having to seek them out.
If you've got the time to go bargain hunting for yourself, then the official Wacom Store is a good place to start, but make sure you also check out the major retailers like Amazon, Best Buy and Walmart since they often have great Wacom deals, especially during big sales.
It's still too early to know exactly what products we can expect to see discounted during Wacom Black Friday 2021, but considering the increased competition that Wacom's now facing from other players, we expect there should be some bargains to be had.
Last year, Amazon US shaved a cool $320 off Wacom's top-level Wacom Cintiq Pro 24, while UK retailers like Currys and Amazon offered savings of around £40 on the more affordable level Wacom One and Wacom Intuos Pro, taking their price down to just £319 and $169 respectively. See below for the best retailers to check for Wacom Black Friday deals, followed by the best Wacom deals available right now.
Read more: