See these jam-happy ganders soar with one guitar each and a stockpile of Strymons. Plus, learn why Rick Mitarotonda embraces random changes to his pedals' settings.
---
"Are you guys with the band?" A pleasant passerby asked while we were loading out camera gear near the Goose tour bus parked outside Nashville's Brooklyn Bowl.
"No, we're just here to do an interview." I responded.
"Oh man, tell the band that last night's concert was uh-mazing," exclaimed the joyous fan. "We'll be talking about it for years to come."
And with that sort of impassioned, infectious positivity, Goose is following the freeform footsteps of the Grateful Dead, Phish, Dave Matthews Band, and Umphrey's McGee—where polished, recorded albums are secondary to improvisation-rich, snowflake-unique performances that illicit exchanges like that above. (Adding to their jam-band credit, they livestream most shows, and guitarist Peter Anspach mixes the band's gigs for release shortly afterwards.)
Formed in 2014, the quintet still retains its original members: Peter Anspach (guitar, keys, vocals), Jeff Arevalo (percussion, vocals), Ben Atkind (drums), Rick Mitarotonda (guitar, lead vocals), and Trevor Weekz (bass). The Northeast-based crew has released two albums (2016's Moon Cabin and 2021's Shenanigans Nite Club), an EP (2020's Night Lights), and Dripfield is on the horizon, for release on June 24.
However, the recorded songs are just guideposts and mile markers. It is all about the live experience. The band often performs two sets, without an opener, and keeps fans on their toes with natural, symbiotic excursions and unlikely, progressive covers. The first evening of their sold-out, two-night run in Nashville saw them flex their musical adeptness and vocabulary with covers of Wes Montgomery ("Switchin'") and Steppenwolf ("Magic Carpet Ride").
Their word-of-mouth growth has elevated them to cross several milestones in 2022. They sold out their first arena (Mohegan Sun in Uncasville, Connecticut) and followed that with sell-outs at the legendary Red Rocks Amphitheatre and historic Radio City Music Hall. So you can plan on seeing these birds fly high for years to come.
Before Goose's second sold-out show in Nashville, PG was invited onstage to catalog their current setups. In this Rundown, guitarists Peter Anspach and Rick Mitarotonda show off their all-night 6-string costars, detail the pedals that help them warp space and time for organic odysseys, and Mitarotonda explains how a looper helps him from hitting mental walls and getting cornered in redundant guitar-playing boxes.
[Brought to you by D'Addario XPND Pedalboard: https://ddar.io/xpnd.rr]
Suhr Is Pretty
Goose guitarist Peter Anspach has always loved humbuckers, but he felt the huskier tones on 'bucker-equipped guitars had a few shortcomings—primarily lacking the 2- and 4-position squawk of an S-style instrument. The solution was switching to this Suhr Mateus Asato Signature Classic that threads the needle with an Asato Custom Humbucker and a pair of ML Standard single-coils. He rocks D'Addario Classic Celluloid picks (1.0 mm), NYXLs (.010 –.046), and Original Fuzz straps.
The Backup Beauty
Sitting close by in the bullpen is this Fender American Vintage '62 Stratocaster that pulls its weight as a backup.
A Reliable Deluxe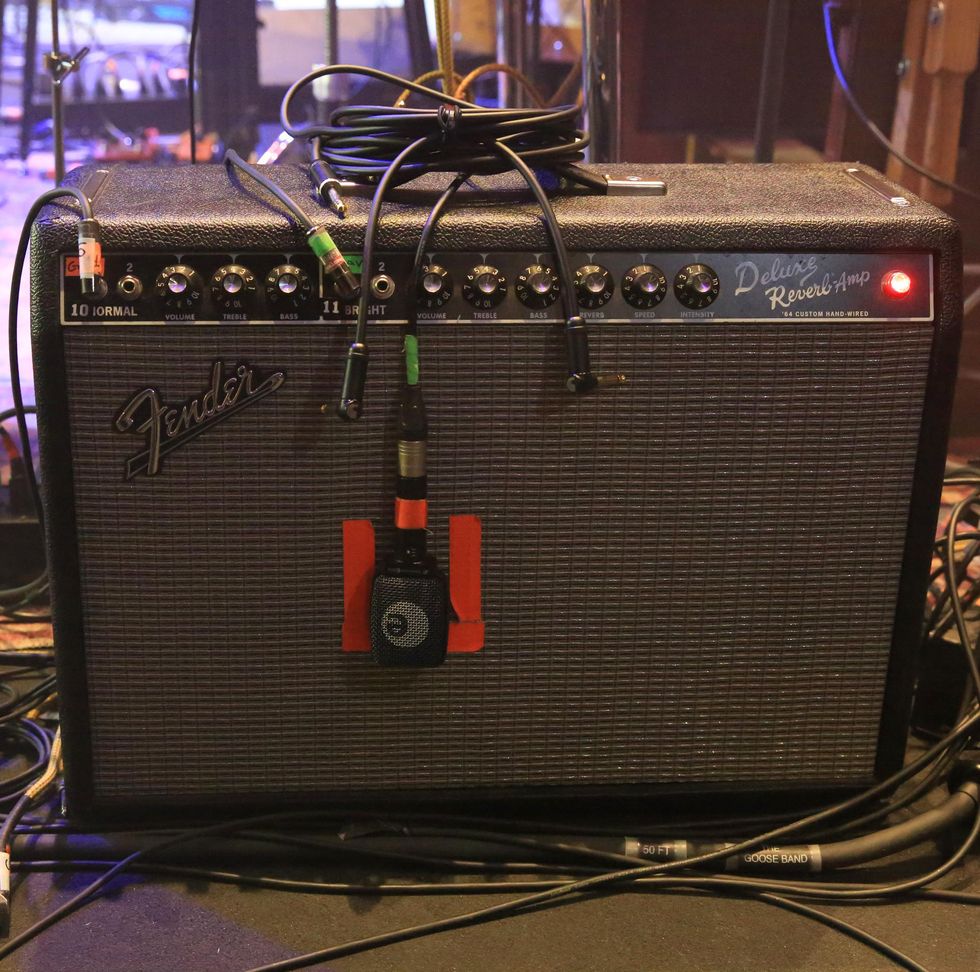 "It's just so full, clean, and reliable, and that's what you need on the road. I can't emphasize its reliability enough," says Anspach of his Fender '64 Custom Deluxe Reverb. "I have a '70s silver-panel Deluxe Reverb at home that gets blown out of the water by this one." He plugs his guitar into the normal channel, while putting his clavinet into the bright channel.
Peter's Pedal Playground
Quickly glancing at Anspach's pedalboard, you see that he has his feet in the analog and digital worlds. The industry standbys include a Moog Moogerfooger MF-101 Lowpass Filter, Electro-Harmonix Small Stone phase shifter, Keeley Compressor Plus, Ibanez TS9 Tube Screamer (with Analog Man mod), and an Analog Man King of Tone. The modern juggernauts include a trio of Chase Bliss boxes (Dark World, Tonal Recall, and Mood) and a pair of Strymon stomps (TimeLine and Flint). A Dunlop Cry Baby Classic GCB95F sits in the lower righthand corner and a TC Electronic Polytune 2 Mini keeps his guitars in check. Underneath is a Strymon Zuma to power his noisemakers.
One for the Birds!
During his formative guitar-playing years, Rick Mitarotonda's father took him to the House of Guitars in Rochester, New York. He tried a bunch of instruments that day, but the cream of the crop for 13-year-old Rick was a PRS. And ever since he's been partial to the birds. His main ride for some time has been this PRS Hollowbody II Piezo. The hollowbody features PRS' 58/15 LT (low turn) humbuckers that work alongside the LR Baggs/PRS proprietary piezo electronics. And similar to his guitar mate, Mitarotonda employs D'Addario NYXLs (.010 –.046).
Bird of a Feather Flock Together
Rick's 6-string insurance plan is in the shape of another PRS Hollowbody II Piezo, but this one technically still belongs to Anspach, who has settled into his Strat-osphere.
Blast Off With Boogie
Rick has been plugging into Mesa/Boogie combos for 10-plus years. He started his journey with the smaller Express 5:25 Plus 1×12 combo with EL84s. He's since graduated to the Express 5:50 with 6L6s. He's stayed loyal to the brand because he enjoys how the amps naturally compress his guitar sound.
V Formation
Mitarotonda has some serious pedal power at his feet. The first board on his far right is dedicated to vocals. He has a TC Helicon Play Electric vocal effects processor that integrates and is controlled by the TC Helicon Switch-3. (The Play adds an octave-up harmony. The three buttons on the Switch-3 toggle engage hardtune, delay, and reverb for his vocals.)
Moving left, we have his first board for guitar. He has a Dunlop Cry Baby 535Q wah and DigiTech Whammy at his disposal before hitting a Lovepedal Eternity Fuse. Then he goes into a Mu-Tron Micro-Tron IV envelope filter, Strymon OB.1 compressor and clean boost, and a MXR Carbon Copy Deluxe. The top-right corner holds a TC Electronic Polytune. Strapped to the bottom is a Truetone 1 Spot power supply.
The third and final board has a MXR Analog Chorus. And then things get serious with a 5-pack of Strymons that include a Deco tape saturation and doubletracker, El Capistan dTape Echo, TimeLine, Flint tremolo/reverb, and a NightSky time-warped reverberator. Off the board to the left is a TC Electronic Ditto X4 that Rick leans on to peel open new textures to help him get out of his head during improvisational parts and see his instrument with a fresh lens.
From Your Site Articles
Related Articles Around the Web