The best laptops for video editing often share the same features, with powerful components and beautiful displays to help run editing software as smoothly as possible, but the main benefit to using such a device is their portability.
Even just a few years ago, desktop computers were better suited to running demanding apps like DaVinci Resolve and Adobe After Effects because they could house more powerful hardware, but technology has no progressed far enough that a slimline, lightweight workstation laptop is now a viable replacement for a bulky desktop tower.
There's also a choice of different operating systems and brands, with Apple MacBooks offering a fanless design and native support for applications like Final Cut Pro, and Windows laptops with AI-boosted graphics cards from Nvidia, you'll soon be editing 4K or even 8K video in no time.
All of the laptops on this page can easily run the best video editing software, so you won't have to worry about any of them struggling. If you're studying a video editing course (or just want to do a bit of video editing for fun while at university, college or school, then check out our best student laptops rundown).
If you want to upgrade your workspace, don't miss our round-up of the best monitors for video editing. For now, let's jump into the best laptops for video editing available now.
The best laptops for video editing available now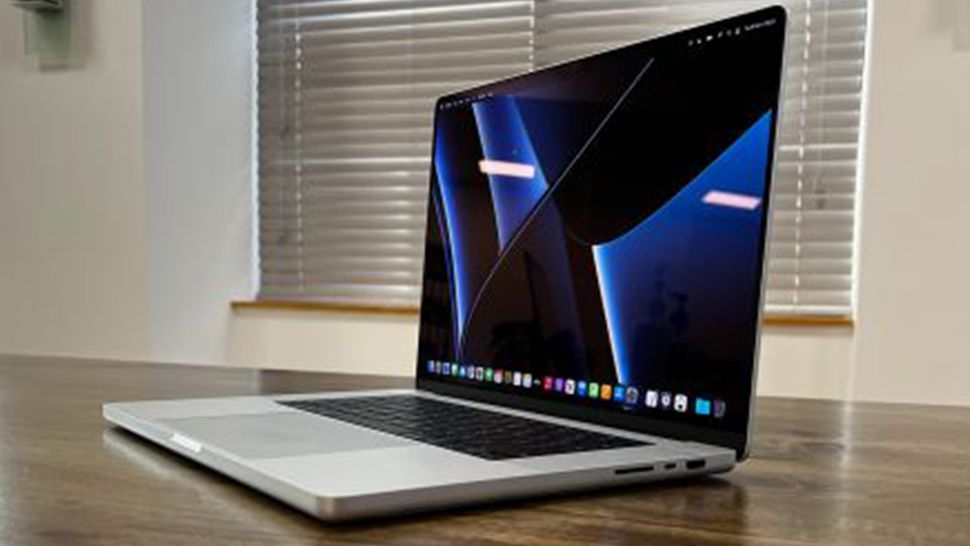 The MacBook Pro 16-inch (2021) is one of the most beloved laptops for video editors on the market, and for good reason. Thanks to Apple's M1 line of processors with the beefier M1 Pro or M1 Max, there's very little that the MacBook Pro can't do for creatives.
The 13-inch MacBook pero may have introduced the M1 SoC (system-on-a-chip) back in 2020, but this latest model has proved itself across all of our tests to be the new top-dog for macOS laptop workstations (and Apple didn't offer any improvement on it specifically in its latest batch of new products).
You're getting a 16.2-inch screen that features a whopping 1,600 nits peak brightness, which we were able to use outside in daylight without any issues. The new Liquid Retina XDR MiniLED display on the MacBook Pro delivers deep blacks and bright whites to provide incredibly rich and detailed video.
And of course, ProMotion provides a great boost to refresh rates, plus HDR (High Dynamic Range) and support for the P3 wide colour gamut, and you've got the best screen you can currently find on a laptop, making it a wonderful choice for video editors who want to see their footage at its very best.
Apple has also added a great selection of ports, including HDMI and a memory card slot, so you can plug in external monitors, or copy footage from a camera, without needing an adaptor. Add in the best battery life we've seen in a MacBook (or any laptop of this power, to be honest), and you've got the very best laptop for video editing you can buy.
Also read: MacBook Pro 16-inch review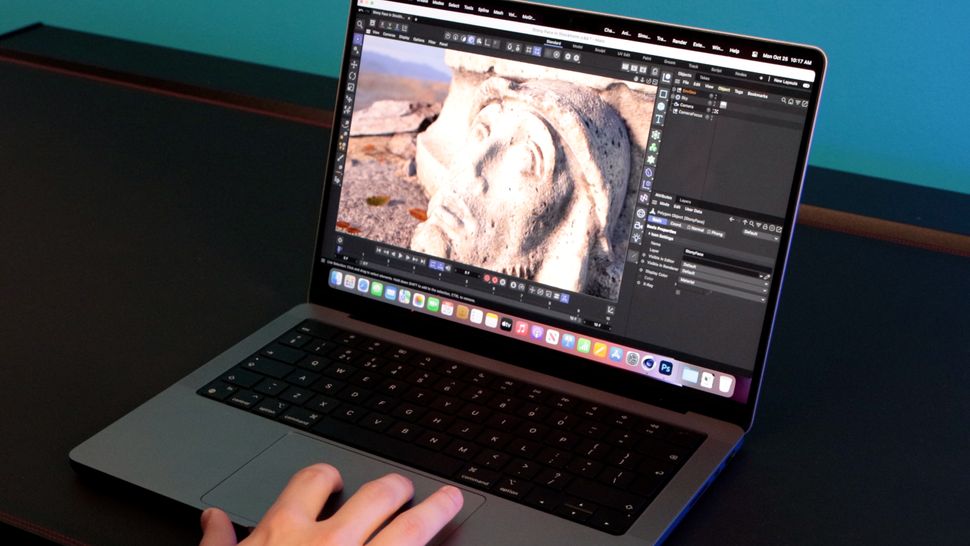 The MacBook Pro 14-inch (2021) is ideal if you loved the sound of the 16-inch model above, but you need something a little smaller to carry around with you. It offers an amazing mini-LED screen that supports 1,600 nits of peak brightness and the P3 wide colour gamut, making it easily one of the best laptops for video editing in the world, but with a smaller, more portable, design.
Best of all, it's completely fanless. We were able to run some pretty demanding tests on this bad boy and it never made a murmor, which makes it ideal for folks who like to work in silence (or at least don't want their laptop sounding like a jet engine).
It's also powered by the new M1 Pro and M1 Max Apple chip, the same as the 16-inch model, which means it offers a similar level of performance to the bigger laptop. As a result, editing 8K videos in Final Cut Pro or Premiere Pro (or any other video editing application for that matter) is quick and easy, and with that fantastic screen, your footage is going to look amazing.
The smaller size doesn't mean it misses out on the new design elements Apple added to the 16-inch model, as it comes with the same amount of ports, including an SD card slot, an HDMI port, and three Thunderbolt 4 ports.
Also read: MacBook Pro 14-inch review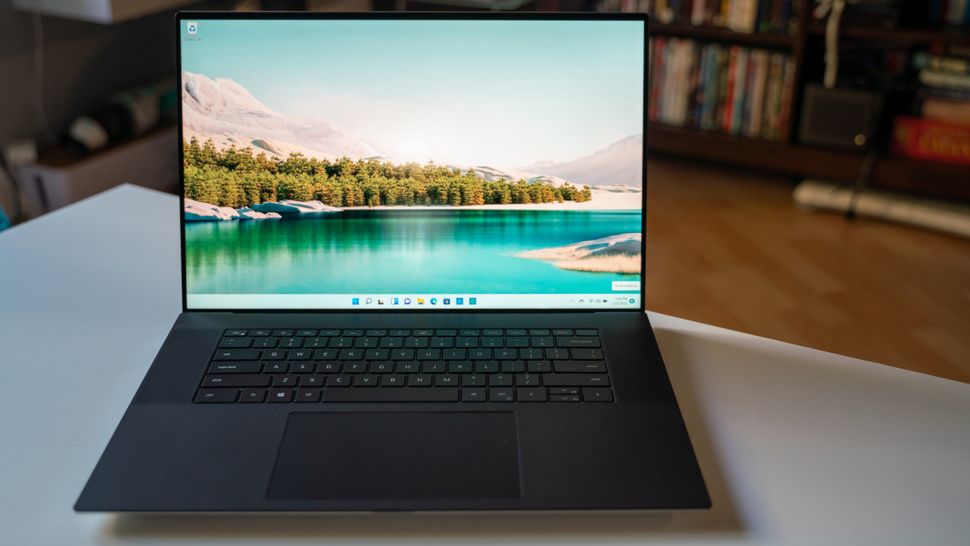 The Dell XPS 17 (2021) can give either of the above MacBook pro laptops a run for their money, especially if you prefer the Windows operating system. That beautiful 17-inch display has a 4K Ultra HD+ resolution of 3,840 x 2,400, a 16:10 aspect ratio for enhanced productivity and solid build quality, resulting in a screen that's ideal for creative work of any kind, as it offers more vertical space than standard 16:9 widescreen displays.
You're also getting the benefit of all the very latest components, with up to an Intel Core i9 CPU and 64GB of RAM in certain configurations, and you can also kit it out with an Nvidia RTX GeForce 3060 dedicated graphics card. It's a fine modern GPU that will allow you to edit 4K videos without issue, and that UHD footage is going to look gorgeous on the Dell XPS 17's high-resolution 17-inch screen.
Perhaps most importantly, the screen supports 100% Adobe RGB and 94% DCI-P3 colour gamuts, which means this offers accurate colours as well, and that makes it an excellent choice for professional video editors who want to edit their content in the best possible conditions.
Sure, it's a big laptop, but we didn't find it to be overly heavy for its size during our tests, and even at 17-inches, you'll be able to slide it into a standard backpack or large-sized satchel with no issues.
Also read: Dell XPS 17 review
The Dell XPS 15 (2021) offers a similarly charming package as its larger counterpart, so if you can't get behind macOS and need something a little more compact, the Dell XPS 15 is one of the best rivals to the MacBook Pro line.
This is because Dell has packed the XPS 15 with some of the most powerful mobile components you'll find in any laptop right now, so opening, editing and saving video footage is incredibly quick and smooth.
All this power is packed into a stylish body that's thin and light – making it ideal for photographers who are often working out and about. You can get an OLED InfinityEdge display for crisp blacks and vivid colours, 11th-generation Intel processors and the latest Nvidia RTX 3050 or 3050 Ti graphics cards, though Intel UHD is also an option for anyone looking to save some cash.
It's backed up by a comfortable keyboard and excellent speakers, plus Dell's famous build quality and support. It's expensive, but worth it if you can afford to get one. For more Dell options, see our best Dell laptops roundup.
The MacBook Pro 13-inch (M1, 2020) pretty much revolutionized the portable workstation market overnight when it was released back in 2020, thanks to the unbelievable performance of that M1 chip.
Many video editors love to work on a larger screen, but this compact workstation is a great option for anyone who needs to prioritize portability over raw power. It was easy for us to throw into a back and carry around, even if you're also lugging additional equipment for a shoot.
Despite being less powerful than the M1 Pro or M1 Max, you can easily edit 4K – and even 8K – videos thanks to the power of the orignal M1 chip, and any video editing app runs fast and smoothly on this laptop.
Best of all, we found in our tests that the MacBook Pro 13-inch (M1, 2020) has an incredibly long battery life, allowing you to work all day without anxiously watching the battery percentage on your screen. For video editors who travel a lot, this still one of the best laptops you can buy, even with the refreshed MacBook Pro models considered in.
While the M1 chip inside the 13-inch MacBook Pro isn't as powerful as the M1 Pro and M1 Max chips that come with the new 14-inch and 16-inch MacBook Pros, it still does a brilliant job for video editing, making the MacBook Pro 13-inch (M1, 2020) a more affordable choice for video editors that want a powerful MacBook, but don't want to spend a fortune.
Also read: MacBook Pro 13-inch (M1, 2020) review
The new Asus ProArt Studiobook 16 OLED might look quirky at first glance, but every design choice has been meticulously thought out to create the ultimate portable workstation for creatives. The inclusion of an OLED display is perfect for video and photo editors who want precise colour accuracy and brightness, while the 'Asus Dial' offers an innovative way of using Adobe creative suite applications without the need for additional peripherals.
It's also surprisingly portable for such a large device, measuring up at 109.2 x 264.1 x 20.3MM and weighing 2.5KG, and that massive chassis is hiding some pretty impressive hardware.
Powered by the latest generation of Nvidia RTX graphics cards, this isn't just perfect for video editors, but also digital illustrators and photographers. It's also rocking AMD Ryzen 5000 series processors and plenty of RAM to run all of your favorite applications.
The dial can only be used on a handful of select Adobe Suite applications right now, but hopefully more support is added for additional apps at a later date. We can attest that the dial is a joy to use despite those restrictions, and the quality of the OLED display absolutely blew us away during our tests. We were sad to see it go back after completing our review, and if that isn't high praise then really, what is?
Also read: Asus ProArt Studiobook 16 OLED review
The Surface Laptop 4 isn't just a great choice for video editors, it's also one of the best laptops that Microsoft has ever released. It looks great, feels great and runs like a dream, making it another perfect rival for folks who don't want to buy a MacBook.
On top of that stunning design, it has plenty of power under the hood. It's thin and light, with a gorgeous design and top-notch build quality, and its large, high-resolution PixelSense touchscreen is perfect for editing videos on, especially 1080p and 4K footage, ensuring your shots look their very best.
We were frustrated by the lack of ports during our tests as this restricted us from using a display graphics tablet (over a standard drawing graphics tablet), but you can get a dongle if required for additional peripherals, and you're getting at least a single USB-C and USB-A.
It's also packing some of the latest mobile tech from both Intel and AMD, and comes in a variety of specifications, so it can easily run video editing software. It runs Windows 10, so all of your favourite apps can be used.
Best of all, it has one of the longest battery life we've ever tested, and while you won't want to edit any epic movies on this thing when it's not plugged in, it does give you flexibility, as you can work out and about without worrying about being plugged into a wall socket.
Also read: Surface Laptop 4 review.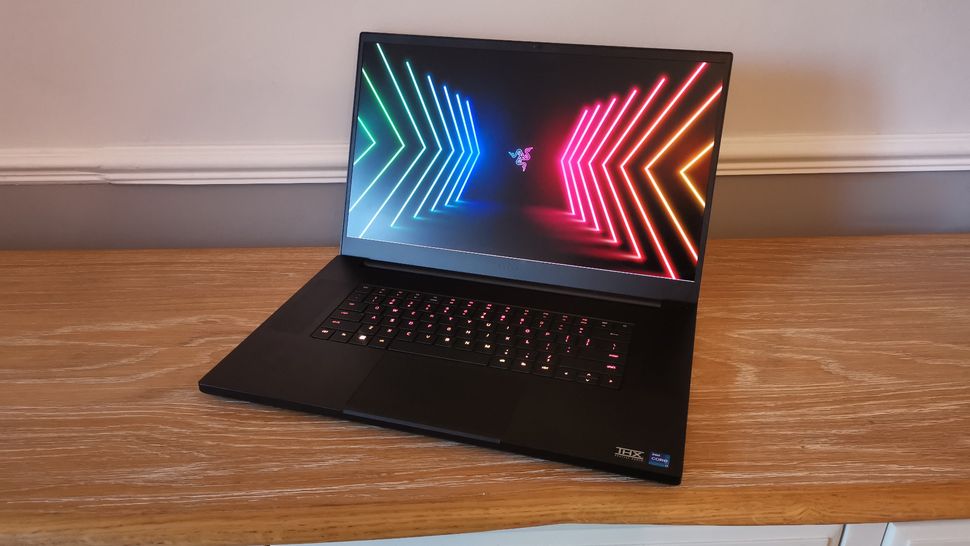 The Razer Blade 17 (2022) is a laptop of many talents thanks to its extremely powerful components and features. It's little wonder then that this has been awarded the Nvidia Studio laptop badge, a motif created to help creatives find the best possible devices on the market to suit their needs even if they don't have much technical knowledge.
There are several different display types to choose from depending on your profession or requirements that make it ideal for editing video, and it has enough ports for you to plug in all of your accessories and peripherals without requiring an additional dock. We managed to hook up an entire desktop setup including an additional display, keyboard, mouse and audio mixer with ports to spare during our tests, which is mindboggling for a modern laptop.
While you can't configure the Razer Blade 17, it has a handful of different versions that all scale in power and price, from an affordable model rocking an RTX 3060 GPU and a 17.3″ 165Hz QHD display, to a seriously powerful RTX 3080 Ti and a full 4K 144Hz version that could replace most modern desktop computers with ease.
Sadly, battery life does suffer in exchange for all that power, but that's hardly an issue unique to the Razer Blade 17. Providing you can stay near a power outlet (or get your editing done in a few hours), this is easily one of the most powerful Windows laptops on the market right now.
Also read: Razer Blade 17 review
The Dell XPS 13 is another smaller device that is still a brilliant video editing laptop. Don't underestimate its petite frame as this pint-sized beast includes Intel's latest 11th generation processors and oodles of storage to save your edited video content.
It's small size is slim and lightweight, which we found easy to toss into a generously sized handbag if needed, and it comes with one of the best screens you'll find in a laptop. You can configure it to come with a 4K screen, so you can once again view your ultra high definition content the way it's supposed to be seen.
One of the only downsides other than how expensive it is (like most well-made Dell laptops) is that the XPS 13 lacks a dedicated GPU, so you won't be able to use any Nvidia Studio drivers or overly graphically demanding applications. It managed well enough for video editing in our tests, though this is better suited as an 'all rounder' for creatives or as a laptop used in addition to a full desktop setup.
Battery life is also excellent, so you'll be able to work on the new Dell XPS 13 for hours on end without needing to be plugged in. It's one of the more expensive laptops out there, but we think it's worth every penny for video editors that want the very best laptop for their work.
Also read: Dell XPS 13 review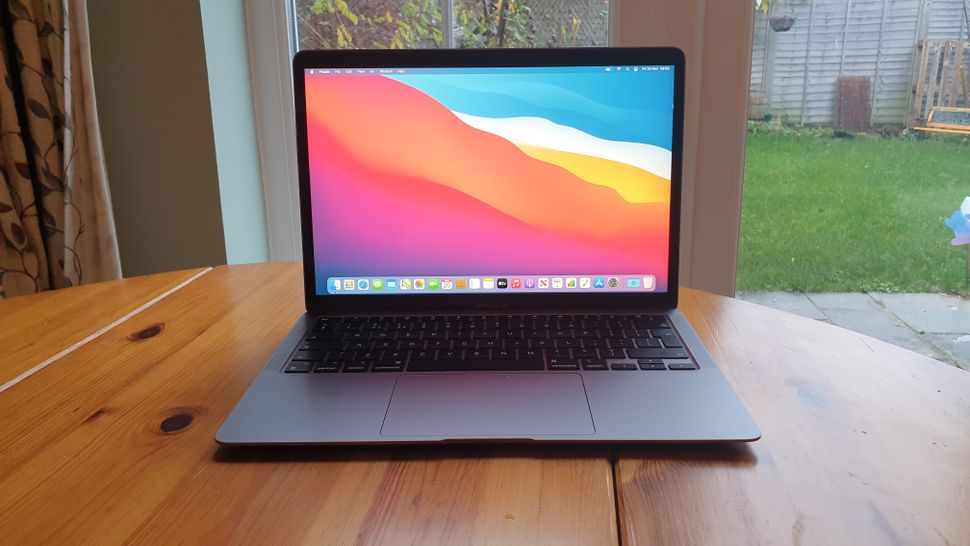 The MacBook Air has always been a firm favourite amongst students and Apple fans on a budget thanks to its relative affordability (for a Mac product at least), but the latest model comes with the same ARM-based Apple M1 chip as the more expensive MacBook Pro 13-inch.
So, it's got a tremendous amount of power under its hood, and can easily handle editing 4K video in Final Cut Pro without breaking a sweat. Its fanless design also means that it is pretty much completely silent when in use. And, as with previous MacBook Airs, it features a gorgeous thin and light design that makes it easy to carry around with you.
Also, for the first time in a MacBook Air, the latest model supports the P3 colour gamut, which means the screen can display accurate colors, a consideration that is incredibly important for video editors.
Is it the most powerful device on the market? No, but it's an absolute joy to use, and given its proficiency in creative applications, this is one of our favourite laptops across everything we've ever tested. We were seriously impressed by how well it performed across our tests and benchmarks despite its lack of discrete GPU, and It's easy to chuck into a bag thanks to its slim design and low weight.
Also read: MacBook Air (M1, 2020) review
How to choose the best laptops for video editing
What makes a great laptop for video editing? First, they need to be powerful. Video editing, especially when working with ultra-high-resolution footage, can be demanding, so you'll want a laptop with plenty of RAM, and a modern processor, either from Intel or AMD, or if you're after a MacBook, then Apple's own M1 chip has proved to be an awesome bit of hardware for video editing. And Apple's new 2021 MacBook Pro laptops come with boosted M1 chips, known as M1 Pro and M1 Max, and these offer exceptional video editing performance, even at ultra-high resolutions like 8K.
Video editors will also want a laptop with plenty of fast SSD storage space, as your video files can get pretty large, so you'll want something that can open up your files quickly, or allow you to move them between the laptop and a backup drive, for example.
You may also want to invest in a laptop with a dedicated graphics card. For regular video editing, this won't be necessary, but if you are looking to do some ambitious video editing and rendering complex graphical effects, then buying a laptop with a GPU could be a good investment. 'Investment' is a keyword here, as laptops with dedicated graphics cards are often far more expensive, so you'll want to make sure that you actually need that kind of power before you put down any money.
Some laptops containing Nvidia GeForce RTX graphics cards can run Nvidia Studio drivers, which are specialized drivers that use AI to boost performance across a wide range of different creative applications. These GPUs are typically on the pricey side, so any laptops with the latest Nvidia hardware is likely to be more expensive than something with an older GTX series card or those running with integrated graphics (meaning built into the processor).
When it comes to MacBooks, they no longer come with a dedicated GPU. Instead, the M1, M1 Pro or M1 Max chip have powerful integrated GPUs that work brilliantly and are more than capable or running all the popular video editing applications.
The best video editing laptops will also come with high-resolution screens so you can comfortably work on them, and they will display your footage with accurate colours. Some of the laptops on this list will actually come with professional-calibrated screens to ensure your footage looks its very best.
High-quality built-in speakers are also a great bonus, as the soundtracks to your videos is just as important as the footage itself, so having great speakers lets you listen and edit your video's soundtrack without needing to invest in external speakers.
Are laptops for video editing expensive?
Because of their combination of powerful hardware and slimline designs, many of the best laptops for video editing can also be pretty expensive. However, because prices of high-end hardware are getting more affordable, it means you can find a great video editing laptop without breaking the bank. You might be confined to just editing 1080p footage, but for many people that will be absolutely fine.
You may notice from the list above that quite a few companies that specialise in gaming laptops, like Acer and Razer, also make laptops designed for creative professionals. These laptops use the same powerful hardware you'd find in a high-end gaming device, but without some of the game centric features (and garish designs). Most importantly of all, they include powerful graphics cards that can drastically cut the time it takes to edit and render videos.
With lashings of CPU and graphics power, they'll chew through the best digital art software and encode videos faster than any standard laptop, and you'll find them included in this list as well. Whether you're a Mac fan or a Windows wizard, we've got you covered. If you're looking for a device specifically for coding, be sure to check out our round up of the best laptops for programming.
Should I buy a MacBook or Windows laptop for video editing?
When looking to buy a laptop for video editing, one of the biggest choices you'll have to make is whether to get a MacBook, or a laptop that runs Windows 10 (or Windows 11).
Part of this is down to individual taste. If you're used to using Windows operating systems, you may find macOS, which is what MacBooks run on, is a bit confusing with how things are done – and vice-versa.
However, both Windows and macOS offer broadly the same video editing software packages. However, Final Cut Pro is a popular application, and that's only available for MacBooks.
MacBooks are very popular amongst video editors thanks to their powerful performance and stylish designs, but in recent years Windows laptops, such as the Dell XPS line, can easily match Apple's laptops in both style and substance.
Windows laptops also benefit from being made by a large range of manufacturers, so if you don't like the design of a certain brand's laptop, you could always go for another. With MacBooks, only Apple makes them, so if you want a MacBook but don't like Apple's style, then you're out of luck.
Related articles:
---