Apple iPhone 14: from design to features, here's what we know
With (we hope) a few months to go until the release of the iPhone 14, we've seen plenty of leaks and rumours to build the anticipation for Apple's next smartphone. Apple usually releases its new phones in September, and for now we're not expecting 2022 to be any different. So what can we expect from the iPhone 14, and will it be worth your money or should you hold out for the next iteration?
We can't know for sure because Apple keeps these things very close to its chest, but there have been lots of leaks, rumours, of which probably at least some will turn out to be true (of course, there's really no telling, but then that's the joy of rumours). Below, I'll round up the most interesting tidbits we've come across so far, from game-changing camera tech to notable design changes. I think you'll agree that if even some of these make it to the phone, the iPhone 14 should more than make up for its predecessor's slightly underwhelming arrival.
Of course, that's not to say the iPhone 13 is a bad phone. It was a rather uninspiring upgrade to the iPhone 12 – it tossed a smaller notch and slightly bigger battery into the mix but not a huge amount else, but if you need a phone now it's still worth considering (see our guide to the best iPhone 13 deals and the best iPhone 13 mini prices).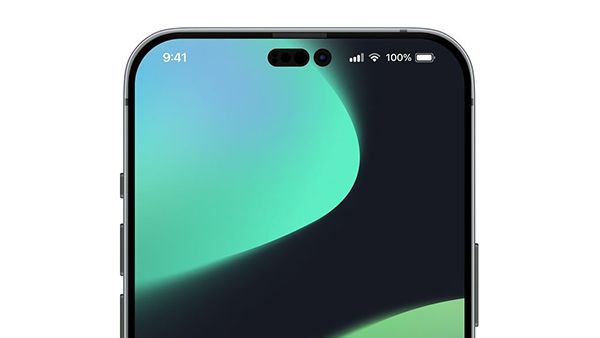 iPhone 14: Design
Perhaps the most radical – and most persistent – iPhone 14 design rumours surround the notch. Long considered a blight on the supposedly all-screen design of the iPhone, the notch is one of the phone's most controversial design touches. But if multiple rumours are to be believed, Apple could finally be nixing the notch in favour of a punch-hole camera. But this could be limited to just the two 'Pro' models.
More recent rumours have suggested that we won't just be getting a single cutout, put a 'pill + hole' design (as illustrated in the fan-made render above). This seems to make more sense – the entire reason for the notch is that something has to house all that Face ID tech. Purported leaked CAD files that were shared in a Chinese social media post may actually reveal the exact dimensions of the cutouts. They aren't exactly tiny. In fact, they're quite close to the size of the original notch but without the empty black space. Still, we'll take a few more pixels any day.
We've also heard that the iPhone 14 could adopt a retro iPhone 4-inspired design, complete with a metallic 'sandwich' profile. We hope this is the case – 2010's iPhone 4 is arguably one of Apple's most beautiful products.
And it isn't just the front of the phone that's up for a refresh. The iPhone 14 could be the first to feature a titanium body, offering a lighter but more durable body that's more resistant to scratches and corrosion. Currently, only certain Apple Watch models are available in titanium – the iPhone 13 Pro comes in mere stainless steel.
But if you're a fan of small phones, you might be out of luck in 2022. There may be no iPhone 14 mini, with rumours suggesting that Apple is planning to ditch the tiny device after disappointing sales of the iPhone 12 mini and 13 mini. But if you like big phones, you could be in luck – right now only the Pro Max range is available in 6.7 inches, but rumour has it the standard 14 will also be available in giant size.
And of course, there are plenty of pie-in-the-sky concepts doing the rounds online. This sliding iPhone 14 concept might be the wildest render we've seen so far – but so far there's nothing to suggest Apple is working on sliding screen tech. But hey, who knows – fan-made ideas have been known to come to fruition, such as this iPad mini concept that's now a very real thing.
iPhone 14: Tech specs
Unsurprisingly, the iPhone 14 is expected to feature an improved chip – with the 13 packing the new A15, we'll take a wild guess and say the 14 might introduce the A16. Reports suggest this could be Apple's first 4nm chip, with the A15 coming in at 5nm. Fewer processes reduces chip's actual footprint whilst simultaneously offering better efficiency, performance and battery life – in short, the smaller nm, the better
On which note, a report that appeared in February suggests that a new, less-power hungry 5G chip will make battery life an area that will see dramatic improvement across the iPhone 14 line up. The rumoured 6nm 5G chip would be physically smaller chip with lower power consumption, offering a double plus for battery life since a smaller chip means more space for the battery, but the chop itself would also require less power.
As for storage, we've heard that the iPhone 14 might bring the first 2TB iPhone into existence (the current highest is 1TB). It's suggested that the larger storage will cater for a higher quality camera.
iPhone 14: Camera
Speaking of the camera, rumour has it the iPhone 14 will feature a whopping 48MP sensor, capable of producing 8K video. If that's the case, the rest of the models in our best camera phones roundup had better start making an iPhone 14-shaped space. And it seems we could finally be in for a periscope lens, which could mean zoom capabilities of up to 50x. That said, recent reports have also claimed that the periscope lens might not arrive until the iPhone 15, so we could have a little longer to wait on that front.
iPhone 14: features
While the super-smooth 120HZ refresh rate of Apple's ProMotion tech made its way to the iPhone 13 Pro phones, it's expected to hit the entire iPhone 14 line-up. This means a feature once limited to the iPad Pro could finally become mainstream.
We've also heard that Touch ID could finally return, just like it did with iPad Air and iPad mini 6. As many a frustrated iPhone user will attest, Face ID isn't an ideal way of unlocking the phone while wearing a mask. And some rumours even suggest the tech could be housed under the display rather than the power button – although this might be limited to the 'Pro' models. Or, it might not happen at all.
And it sounds like Apple could be planning a major U(SB)-turn with the iPhone 14, finally offering USB-C to the masses. Allowing for faster charging than Lightning and much greater flexibility with accessories, USB-C has been a mainstay on fans' wishlists for a few years now.
Time will tell what Apple has in store in 2022, and we'll keep this page updated with every rumour and leak that comes along. If you want the best iPhone experience available now, check out today's best iPhone 13 deals below.
Read more: