"So Far, So Close" Charity Auction for Ukraine by PEJAC
On the 23rd of February Pejac released his latest print: So Far, So Close, dealing with the indiscriminate and senseless loss that comes with war, not knowing that the very next day Russian forces would invade Ukraine.
It is a striking image that depicts an infinite circular trench embedded in a desolate landscape, as soldiers burst over the top into battle. This artwork challenges the simplistic duality with which the war is too often described, as the artist himself puts it "sometimes perceiving someone as a friend or a foe is just a matter of perspective".

Trying to offer some help in this painful situation, the artist is offering a totally unique print proof of So Far, So Close at a charity auction. All 100% of the proceeds will be given to the NGOs Voices of Children, focused on helping children who have suffered as a result of military operations to recover psychologically and psychosocially, and Acted, a French NGO that works to provide basic necessities to the population as well as helping in evacuation and crisis management training.
The print itself measures 110 x 80 cm, and is the result of a painstaking multiphase production process that adds a novel feature to Pejac's printmaking practice: the use of the monotype technique. To this one of one print proof, with the edition number #10/15, the artist has also hand-drawn in the finishing details of two plumes of blue and yellow coloured smoke, as well as different shades of acrylic and coloured pencils to different areas of the print.
The auction will start on the 12th of May at 16:00 hrs (CET) and will run until the 26th of May at 16:00 hrs (CET). It will be held by the Tate Ward auction house together with the online art platform Artsy. To take part online you can use the following link. Potential buyers will need to register for an account with Artsy on their website.
So Far, So Close – Artist's Proof Print
110 x 80 cm (43.3 x 31.5 inch)
Single-coloured hand-pulled photopolymer on hand-coloured monotype
Okawara paper on Velin d'Arches cotton paper 300 gsm
Hand-finished by the artist by use of acrylic paint and pencil
Signed and numbered by the artist
A certificate of authenticity will be issued six months after the purchase
Packed and delivered in a custom-made wooden crate featuring a laser-engraved image of one scene of the artwork
So Far, So Close – Postcard Lottery Ticket
21 x 14.8 cm (8.27 x 5.83 inch)
High-quality digital print in colour
Finesse Premium Silk 350 gsm paper mounted on 2.25 mm grey cardboard
Hand-finished by the artist by use of acrylic paint
Signed by the artist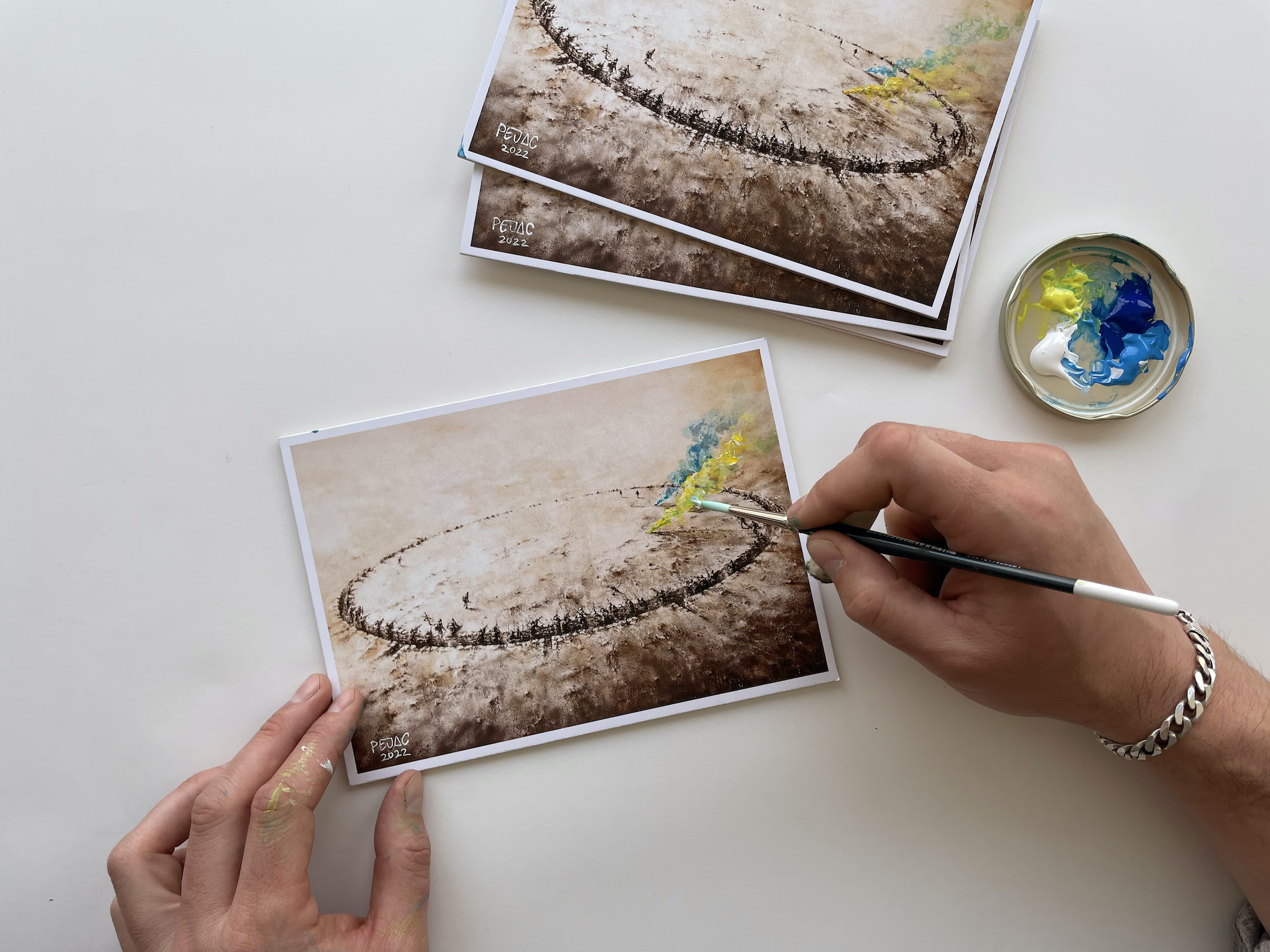 The artist invites anyone who'd like to spread awareness of the fundraising to do so through his Instagram profile @Pejac_art. To say thank you for the help and support there will be a giveaway of 5 hand-painted, signed postcards from the SFSC collection.
To participate, you'll need to:
-Follow the account @Pejac_art
-Mention in the post those who you think might want to help, using the hashtag #pejac_ukraine
-Finally, if you would like to, though it's not mandatory, share a post or story including the artwork, with the hashtag #pejac_ukraine
The five recipients will be selected and announced on the 27th of May, the day after the auction.
You can follow this link for all the terms and conditions.