Revv Amps Introduces the Shawn Tubbs Tilt Overdrive
Developed with Nashville session ace Shawn Tubbs, this compact dual pedal provides organic, vintage tones, and the innovative "tilt boost."
---
The Canadian pedal gurus' introduce their first Signature Series pedal – the Tilt Overdrive developed with Nashville session ace Shawn Tubbs. In this compact dual pedal, the Drive Circuit provides organic tones based on Shawn's ideal combination of cranked vintage amps, while the innovative "Tilt Boost" goes from authentic clean boosting to powerful tone sculpting.
"I've been on so many different gigs that I know exactly what I need to perform. Cutting through the mix with the right mids, great feel that cleans up with your hands & the volume knob, a killer boost to kick in & just make everything sound better. Every time I've played an incredible vintage amp I'd get so inspired & that's what went into this pedal. It's all my favorite tones combined into one simple box. If you want to have my tone, well here it is in this pedal. But I think this pedal might help you sound like yourself." – Shawn Tubbs
Features
The Sound In Your Head – record-ready legendary amp tones & a high-headroom Tilt Boost get you the right tone quickly in any musical context.
Drive Circuit – touch-sensitive amp-voiced tones from edge-of-breakup to all-out solos.
Tilt Boost – accurately control low end as you boost w/ 3-position Tight Switch.
All In One Solution To Your Guitar Tone – add versatility & clarity to your current setup or build an entire rig around the Tilt Overdrive.
Compact Dual Design – top-mounted jacks, true bypass, & silent relay switching.
9-12v center negative external power supply operation, 35mA minimum.
Charcoal blue metallic enclosure w/ custom graphic & laser-etched Shawn Tubbs signature.
Manufactured in Canada to rugged quality standards w/ 2-year registered limited warranty.
Revv Shawn Tubbs Tilt Overdrive | The All-In-One Solution To Your Tone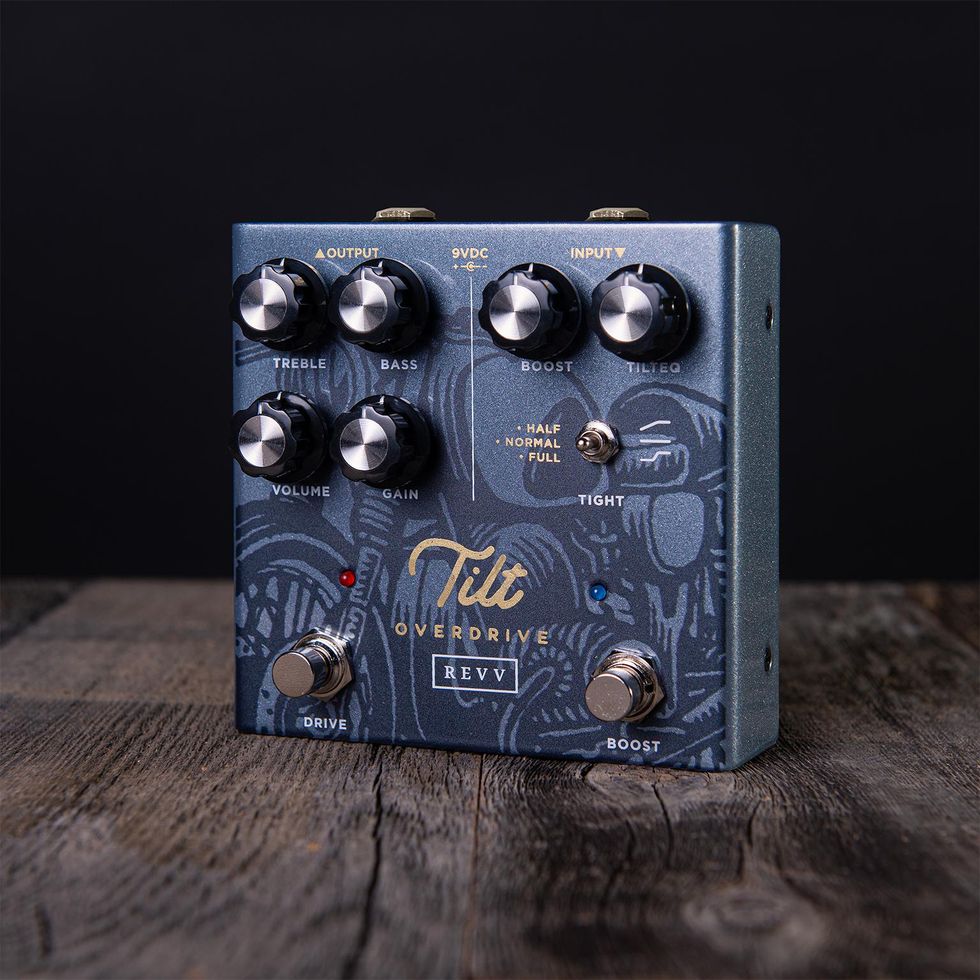 The Revv Shawn Tubbs Tilt Overdrive has a street price of $269.00 USD. It can be purchased through many fine dealers worldwide or directly at www.revvamplification.com starting May 19, 2022.
From Your Site Articles
Related Articles Around the Web