Wolf Van Halen and longtime master builder Chip Ellis discuss prototypes for EVH's SA-126 and Wolfgang bass. Plus, the rest of the band show off their rockin' wares.
---
Following in a parent's professional footsteps is daunting. Imagine re-treading that ground in the public eye. Now conceptualize walking in the footsteps of one of the greatest guitarists to ever live. Succeeding on any level seems impossible. So where do you start when trying to find your own voice on an instrument your dad basically reconstructed?
"The main thing, when I started doing this, was that I wanted to find my own sort of sound and not do everything dad did," says Wolfgang Van Halen. "When it came to guitar, I didn't know what I wanted to do. I just wanted to sound like myself."
After 15 years in the family band (and working alongside Mark Tremonti for his solo project), that's what Wolf did when he wrote and tracked all the instruments on the 15 songs for his debut album, Mammoth WVH, released last year. (The title is a nod to the original name of his father's and uncle's iconic band during 1972-'74.)
Things have changed since we last checked out Wolf's setup. Back in 2012, when PG got the special treat of swooping into Bridgestone Arena to check out the rigs of Eddie and Wolf. We got to see the various Wolfgang models dad brought out, and Wolf's custom-made one-off basses constructed by master builder Chip Ellis.
Now Wolf is playing guitar and singing lead. He's flanked by two additional guitarists (Frank Sidoris and Jon Jourdan), while bass and drums are handled by Ronnie Ficarro and Garrett Whitlock (respectively). There's still a lot of his dad's thumbprint on the band's setup, but there's two new things afoot. This tour saw two new prototypes unveiled: a signature semi-hollow for Wolf and beefy, humbucker-loaded basses were being road-tested (or, as the Van Halens say, in the "crash-testing phase").
"Through writing and recording that first album, and having fun, I ended up tracking most with a 335 and that semi-hollowbody sound became the baseline for all of Mammoth WVH," says Wolf. So, he and Ellis sought to combine reverence for the EVH legacy with something fresh for not only Wolf's sound but to expand the company's appeal. "I want to make something that has the DNA of the EVH brand, but something that they don't offer."
Before a headlining show at the Signal in Chattanooga, Tennessee, on May 17th, PG traveled south down I-24 to see what was percolating in the EVH and WVH camps. We were fortunate enough to be joined by Ellis and Van Halen, who talked about the development of the new SA-126 semi-hollow guitar and then focused on the new thunder-stick 4-string prototype that's being "crash tested" by bandmate Ronnie Ficarro. Additionally, we cover the setups of riff warriors Sidoris (also of Slash feat. Myles Kennedy and the Conspirators) and Jourdan (To Whom It May), who fly the EVH flag but bring their own shine.
[Brought to you by D'Addario XS Electric Strings.]
Mammoth Signature
The basis for Mammoth WVH's core guitar tone was formed around a Gibson ES-335. Wolf tracked with that guitar the most and it helped him find his own sound, separate from his father's. But wanting to keep things in the family, he and longtime Fender/EVH master builder Chip Ellis aimed to put the 335 heartbeat into a Wolfgang package.
Some notable Easter eggs in the guitar's design are fret inlays that appear as M (looking down the neck) but also work as W—or E— depending on your eye angle. The SA-126 model name honors Eddie's birthday (1/26/55). The f-hole is actually a subtle e-hole, and these guitars feature eye-hook strap buttons. (The first prototype had standard strap buttons and a side-mounted input jack, but has since been changed.)
Each one of the guitars you'll see have different neck profiles, pickup voicings with varying heat levels (although all are humbuckers), tonewoods, and finishes. It's worth noting that the pickups Wolf and Chip are enjoying the most are not the hottest. They said in the video that dialing back the output allowed the instrument to have a fuller, wider sound. Additional known specs (which could change at any minute) include quilted maple tops (but standard maple on this one), ebony fretboards, brass harmonica-style bridges, and 24.75″ scale lengths, and for this run all the prototypes took EVH Premium Strings (.009 –.042). (D'Addario manufactures all EVH-brand guitar strings.)
This guitar is the third prototype and was special for Wolf and Chip to put together. Eddie's main live axe during Van Halen's last tour was a white relic'd Wolfgang model, so they wanted to do something honoring his legacy. "It was emotional, and it felt great to build this guitar," declares Ellis. "It was a full-circle kind of moment for me."
Old But New
Here's a close-up of the relic'd body for Wolf's third SA-126 prototype, showing off the e-hole.
Backside Burns
A look around back reveals some impressive scars.
The Crown
A shot of the SA-126 headstock.
First Offering
This is Wolf's first SA-126 prototype. It originally came with a side-mounted input jack and standard strap buttons. However, they've since moved the jack to the top (like an offset Fender or ES-style guitar) and opted for the eye-hook strap buttons made famous by Eddie.
Smokey Signature
And here's the second prototype Chip Ellis built for Wolf, featuring a crisp 'burst glowing like a campfire all night and day.
Keeping It in the Family
It's no surprise that Wolf is plugging into an EVH stack. His amp of choice for Mammoth is the EVH 5150III 50W 6L6 head matched with a EVH 5150III 4×12 loaded with Celestion G12 EVH 20W speakers. He mentions in the video that he normally lives in the blue channel and only hits the red one for solos.
Stripes
"There's not too much I need from pedals, but it's more for fun," concedes Van Halen. He enlisted every EVH pedal (aside from the 5150 Overdrive that will show up later) for this run, plus a few extras. The Dunlop EVH95 Eddie Van Halen Signature EVH Cry Baby gets worked out for the solo of "You'll Be the One." (The recorded solo is through a talk box, but Wolf thought the wah was a simpler stand-in for live performances.) The MXR EVH 5150 Chorus and the MXR Eddie Van Halen Phase 90 have become interchangeable for him. The song "Think It Over" has become a testing ground between the two modulation effects. The MXR EVH117 Flanger gets sprinkled in for select moments, like during "Mr. Ed." For the solo in "Distance," he always uses the Boss DD-3 Digital Delay and the EarthQuaker Devices Afterneath.
Can't Put It Down
"Chip did all the relic'ing, aging, and sanding of the neck and it just feels amazing. It's hard to put that guitar down," says Jon Jourdan. The above EVH Wolfgang is a discontinued offering, but he can't deviate from it because of his connection to this instrument and the sturdiness of the stop-tail bridge that allows him to really dig in with his picking hand. Jourdan plays this guitar for all the standard-tuned songs.
Silver Bird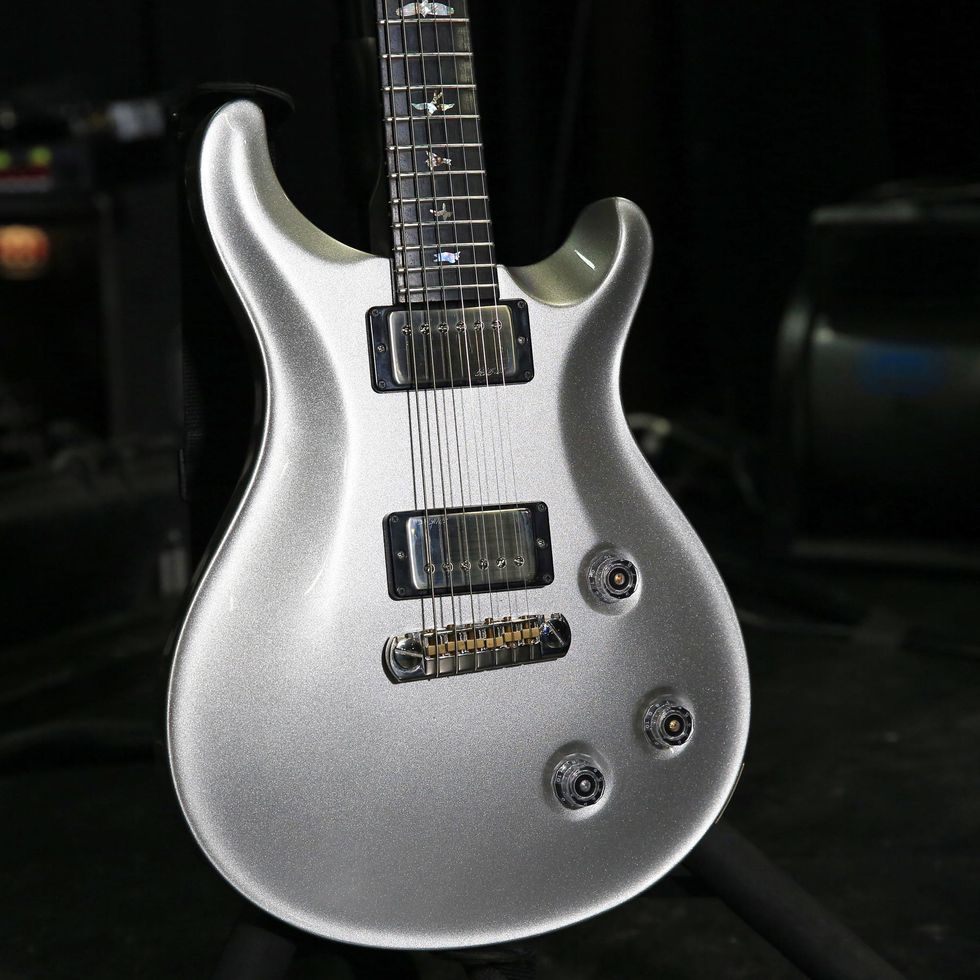 Here's Jourdan's PRS Custom 24 Platinum model that is decked out in an anniversary-year-only finish and boasts a 5-way rotary knob in lieu of a standard pickup selector. It comes with the company's 58/15 humbuckers and is completely stock. Both of his guitars take Dunlop Performance+ strings (.011–.052).
British 5150
Like Wolf, Jourdan is running an 50W EVH 5150 head. His tube flavor (EL34) brings a little British bluster to the band's sound. "We all use the 50-watt heads, so even when everything is straight up the middle everything fits in the mix and everyone has a lane," he observes. Similar to his guitar-playing bandmates, Jourdan's 5150 head hits an EVH 5150III 4×12 loaded with Celestion G12 EVH 20W speakers.
Open Auditions
In the video, Jourdan admits the style and design of his board makes pedal swaps a bit more work, but that doesn't stop him from testing out new tone treats. Before this run, he traded in the Frost Giant Electronics Yama for another boost and is already looking to find a nastier, wilder fuzz in place of the Walrus Audio Iron Horse V3. The rest of the stable includes an Electronic Audio Experiments Halberd (used for "Stone"), MXR EVH117 Flanger, and Eventide H9. A Fortin Mini Zuul Noise Gate cleans up the amp and a Peterson StroboStomp HD keeps his guitars in check. A Boss ES-8 Effects Switching System is the reins for the whole system.
I'm the One
"This has actually been a longstanding project with the EVH line and it was something Ed was very passionate about when he was still with us. He was a closet bass player and loved chasing bass tones," says Chip Ellis.
EVH has hinted at production bass models ever since Chip built several prototypes for Wolf during his run as VH bassist from 2005 to 2020. But no matter the level of buzz generated by public interest, nothing materialized. Then, in early February, they teased the upcoming tour by posting a photo of bassist Ronnie Ficarro rocking a 4-string with the caption: "Check out that sweet Wolfgang bass prototype."
The current evolution of the company's bass design dives off the EVH striped basses built for Wolfgang in the 2010s. The pickups are big, hot, monster-rock humbuckers that weigh about a half-pound each. "One of the earliest prototypes had a swimming-pool route and Ed kept wanting to move the pickups further and further apart because we kept getting a bigger variety of tones," said Ellis.
Both prototypes have mahogany bodies, maple necks, and rosewood fretboards. The neck profiles are pretty close to the ones played by Wolf with Van Halen. A big-mass bridge anchors the strings and there's actually a blend control between the pickups rather than a standard selector. (There's a detent that lets you know when you're in the middle, engaging both pickups.) The volume is push-pull, to coil-tap the pickups, too. Ronnie's been riding this one during standard or drop-D tunings, since it comes equipped with a handy Hipshot Bass Xtender Key.
Bottoms Up
In a pinch, the bass' headstock could double as a bottle opener.
Burst into Burst
The finish on prototype No. 2 almost has a Magic-Eye effect, with the opposing bursts rushing in towards each other. Another difference between No. 1 is the inclusion of a standard pickup selector (removing the blend control for a tone knob). Outfitted again with a Hipshot Bass Xtender Key, Ronnie jams on this for D-standard and drop-C songs.
Familiar and Loud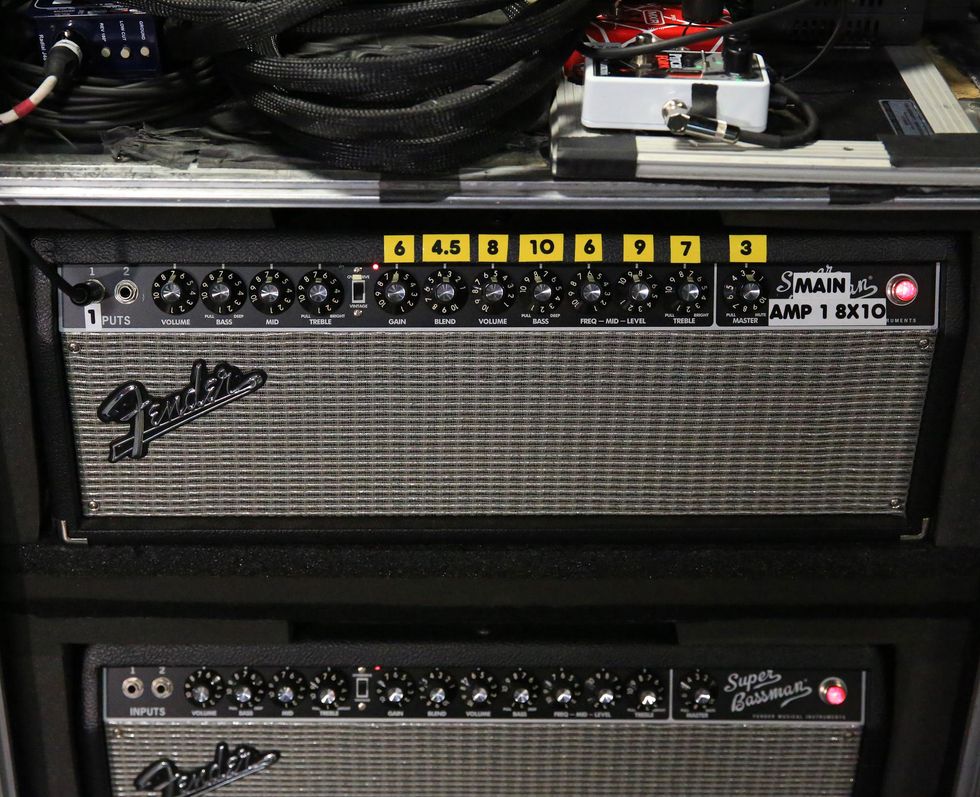 Ronnie Ficarro has been plugging the prototype Wolfgang basses into this Fender Super Bassman 300W head. The coolest part of this rig is that fact is that it's the exact one Wolf used on the final Van Halen tour with his pops. The numbers you see above the knobs are Wolf's settings from that VH run, and Ronnie thought it'd be a cool tip of the cap to leave those on the faceplate. In the video, Ficarro admits to being a Rig Rundown fanatic. When he's feeling a Green Day, uh, day, he'll open his phone and reference a screen shot of Mike Dirnt's settings from the Rig Rundown we did in 2013.
Monsters of Rock
The Fender Super Bassman smashes into a Fender Bassman Pro 8×10.
Fundamental for Ficarro
Here's Ronnie's pretty basic stomp station: a trio of EVH-inspired pedals—MXR EVH 5150 Chorus, MXR EVH 5150 Overdrive, and the MXR Eddie Van Halen Phase 90—plus an Electro-Harmonix Pitch Fork for approximating the low B roar that Wolf recorded on the song "Epiphany." The non-descript silver box is a channel switcher for the Fender Super Bassman, and Ronnie's basses are centered by the Peterson StroboStomp HD.
The Green Giant
"I never thought I'd become the green guitar guy, but it's just become my thing over the last few years," states Sidoris. Frank had his eye on this Gibson Custom 1964 SG Standard reissue for some time. He originally fell for its olive-drab cloak when he saw it on display during the 2020 NAMM Show in Anaheim. Fast forward through two years and Sidoris re-encounters the SG while visiting Nashville, when he sees it listed on Rumble Seat Music's website. He went to the store and demo'd the guitar, and it was even better than he could imagine. He uses Ernie Ball 2020 Power Slinky Paradigms (.011–.048) across all his axes.
Stealthy Stinger
Sidoris also plugs into an EVH head. His flavor is the sleek EVH 5150III 50S 6L6. And, similar to the band's other riffers, he's relying on Celestion G12 EVH 20W speakers, but he opts for the matching EVH 5150III 100S cabinet.
Stompin' with Sidoris
Along with his pals, Sidoris has an MXR Eddie Van Halen Phase 90, but changes it up with the inclusion of a DigiTech Whammy Ricochet, Walrus Audio Ages, MXR Carbon Copy, and a Dunlop Volume (X) DVP3. A Boss TU-3 Chromatic Tuner keeps his Gibsons in check and a MXR Smart Gate tames the EVH.
From Your Site Articles
Related Articles Around the Web