"Urban Break" Street Art Fair in Seoul, South Korea
URBAN BREAK, was known as the "hip and hot exhibition" last summer and was visited by more than 40,000 people even during the peak of COVID-19 in 2021 is coming back this summer. URBAN BREAK 2022 will be held at COEX Hall B in Seoul for four days from July 21st to 24th, 2022 plans to solidify its status as Asia's largest urban & street art fair with a stronger artist lineup and programs.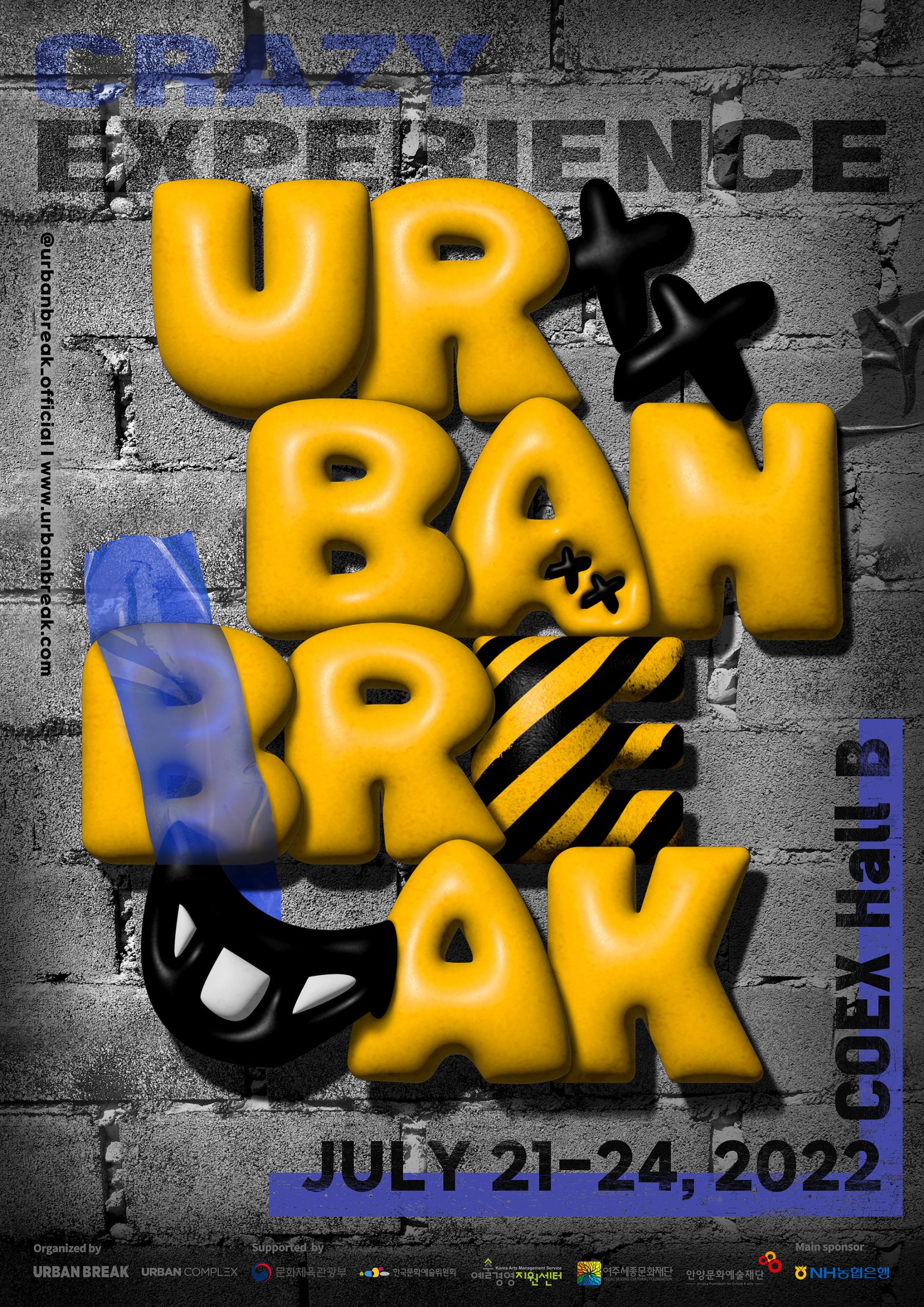 URBAN BREAK is famous for collaborating with the most notable artists in urban art and street culture from both South Korea and overseas every year. This year, approximately 450 artists, including 20 groups of 40 people who were selected precisely among the artists who applied through the open call, are expected to present their works in 120 booths. New artworks will also be revealed for the first time at URBAN BREAK 2022 and artists will meet with the visitors in various forms such as special exhibitions, live performances, art toys, NFTs, large media walls, etc.
This year, a large number of prominent international artists who are drawing keen attention every year will participate in URBAN BREAK 2022. The URBAN BREAK collaboration art toys by Matt Gondek who has gained worldwide fame as the next KAWS (i.e., American artist and designer) will release his new artwork during the exhibition and worldwide simultaneously. The world-famous graffiti artists including Banksy, D*Face, Invader, and Roby Dwi Antono have also confirmed their participation.
Special Exhibition of International Street Artists
20 artists will participate in the Special Exhibition of International Street Artists. The exhibition will feature various paintings and prints by D*Face who uses pop art images reminiscent of the works of Andy Warhol or Roy Lichtenstein, Banksy, British graffiti artist famous for being a faceless artist, Roby Dwi Antono who creates a cute and eerie image of children by combining surrealism with classical Renaissance images as well as artworks by other artists.
Paintings by Andre Saraiva, a leading French street artist, will also be shown in the exhibition. He has considered starting a new horizon in street art by introducing a scene with a character or theme to the mural. He is gaining popularity with his bright and lovely characters and has once opened a pop-up store in Korea in collaboration with a fashion brand.
Okuda San Miguel, who works on murals, paintings, and sculptures with geometric structures and patterns of various colors and Invader, an anonymous French artist famous for ceramic tile mosaics using pixelated images from 8-bit video games, and other artists also confirmed to participate and disclose their new works in URBAN BREAK 2022.
In addition, Matt Gondek, Okuda San Miguel, and Lonac will visit Korea and meet with the visitors during the exhibition period. Rom Levy who co-planned the Special Exhibition of International Street Artists as director of Street Art News, the world's largest street art magazine, plans to launch a program introducing urban and street art and market trends.
URBAN BREAK CEO, Jang, Woncheol, who is preparing various collaboration projects on IP (Intellectual Property) to combine domestic urban and street art with various industries, said that "The participation of international urban and street artists in URBAN BREAK 2022 and the release of the world's first new artworks are the results of demonstrating global interest in the art market in Korea." Mr. Jang also added that "We will do our best to help urban and street art grow as one of the mainstays of the domestic art field through URBAN BREAK 2022 to which international artists are currently paying attention."
On the other hand, URBAN BREAK 2021 enjoyed a great success with 40,000 visitors despite the difficult situation due to COVID-19. In URBAN BREAK 2022, approximately 450 local and international artists are scheduled to fill a total of 120 booths, and present approximately 3,000 artworks.
Another highlight of URBAN BREAK 2022 is, there will be a special exhibition that focuses on the scalability of art. Visitors can see a special exhibition of art cars, which has become more popular than ever. There will also be a special exhibition of four top-notch webtoon artists. In addition, special exhibitions of art toys and tattoos that can only be seen in URBAN BREAK 2022, and a meeting between Metaverse and NFT will also be held. The participating artist lineup will be sequentially revealed through URBAN BREAK Instagram (@urbanbreak_official).
Urban Break CEO, Jang, Won cheol said that "URBAN 2022 focuses on the scalability of art by presenting the works of artists who have richly decorated the field of world's urban art and street culture with their own persistence and individuality in new and diverse forms." He also mentioned that "In particular, by establishing NFT LAB last year, we are prepared to launch our own online commerce platform and NFT art platform, and we plan to provide a new experience that connects offline exhibitions and the digital world this summer."
Tickets for URBAN BREAK 2022 are sold at KRW 20,000 for general admission and at KRW 100,000 for VIP admission. Those who have purchased VIP tickets can enter early from 12:00 pm to 3:00 pm prior to the exhibition to be open on July 21st, 2022, at 3:00 pm. Early bird tickets will be sold through Interpark until June 30, 2022 and both regular and VIP tickets can be available at a 20% discount.
You can book your tickets to this year's Urban Break at their website.