The best tablets for students in 2022
The best tablets for students can be a real boon both in and out of the classroom. A tablet can be easier to carry around with you than a laptop, allowing you to take it to lectures and seminars every day without adding too much weight to your bag or taking up too much space on your desk. You can even use it to study on the bus or train as well as in the library, cafe, or wherever you find yourself, and add in a keyboard and you can easily use it to write up essays.
Which device makes the best student tablet for you will depend on your requirements, but you'll want it to easily fit into your bag, and to be affordable enough that it won't make too much of a dent in your student loan before term's even started. To make it easier to choose, we've selected our own pick of the best, with options from the top brands, including Apple, Microsoft and Samsung. We've based our choices both on the opinions and experiences of our reviewers, and on what's likely to matter to you: specifications, build, portability and battery life (after all, you don't want to run out of juice halfway through a crucial lecture).
We've also taken price into consideration; naturally some students will want high-end options such as the iPad Pro 12.9 or the Surface Pro 8 for demanding creative work, but we've also included cheaper options for those whose budget won't stretch that far or who simply don't need that level of performance. We've also included some older models that deliver solid performance at a more attractive price; for example, the 2020 iPad Air rather than the blazing-fast 2022 model, as it's still a fine tablet that's now regularly seeing discounts.
Looking for more essential student gear? Make sure you take a look at how to get Apple student discount and our picks of the best student laptops and the best drawing tablets. And after you've chosen your tablets, check out our selection of the best tablet keyboards.
The best tablets for students available now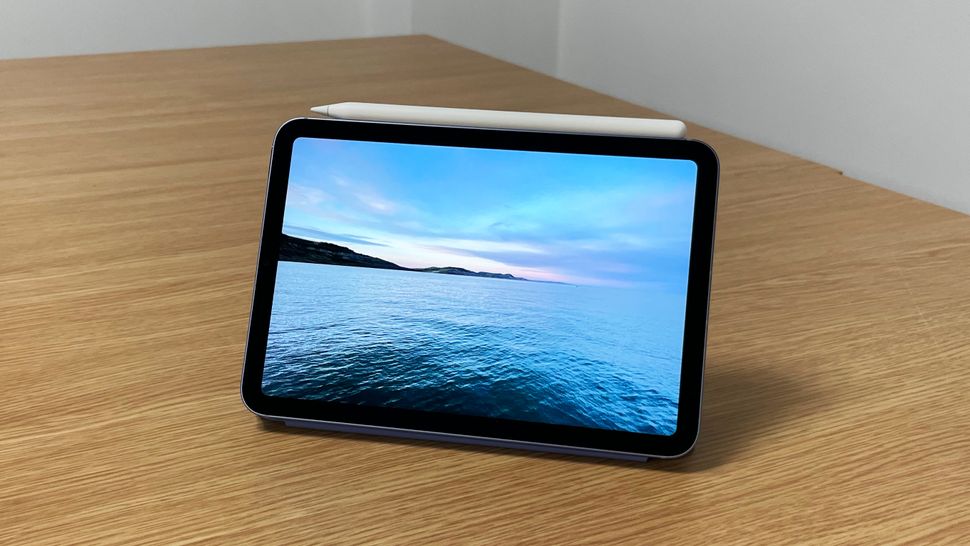 Ever since it received Apple Pencil support the iPad Mini has been a firm favourite of ours, and its September 2021 update has boosted its status as the best tablet for students. Its increased power makes it suitable for just about any work or study tasks that you care to throw at it, and now that it also boasts Apple Pencil 2 compatibility it's an almost perfect platform for drawing, sketching and note-taking, and it'll just about fit into a coat pocket, too.
This iteration uses a reworked version of the A15 Bionic chip for powerful processing, and while some users may feel frustrated by only 4GB of RAM, realistically this should be enough for any of the tasks you'd want to do on a screen this small. The design is as gorgeous as ever, and the compact size makes the tablet easy to carry to classes – it's about the size of a paperback book and weighs just 300g. A very welcome addition is a USB-C port, which opens up a lot of possibilities. In our review, we used it with a USB DAC to listen to Apple's Lossless Hi-Res music, and with a USB mic to record a voiceover.
The display is a little larger than that of the last iPad Mini, even though the overall body is smaller, with a 3:2 aspect ratio. The brightness is very even, making it pleasant to use for long periods, and we were very impressed with the colour accuracy. While you're still paying a fairly premium Apple price, we reckon the iPad Mini 2021 offers solid value for money.
See our full iPad mini 6 review for more details.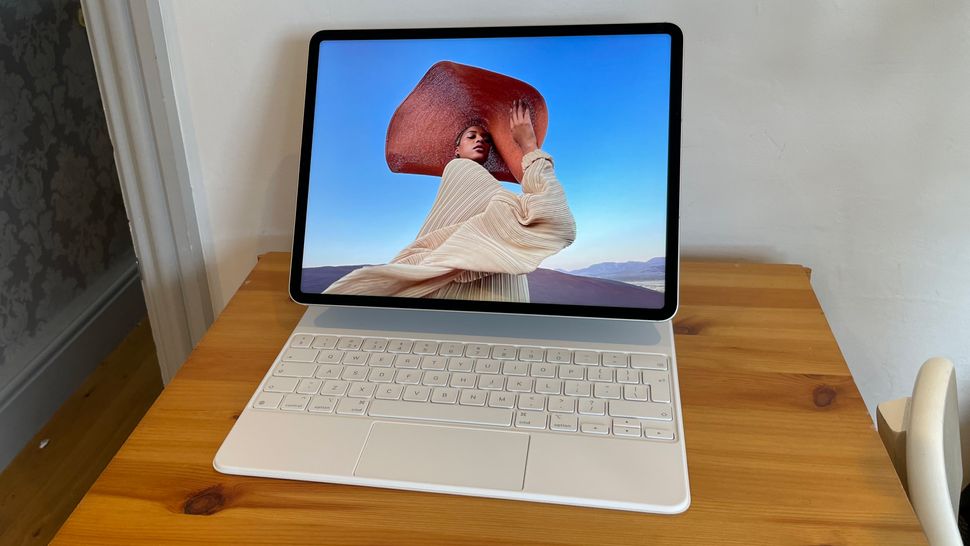 The big appeal of the iPad Mini is its portability, but if you're more focused on power and don't mind spending big, the very best tablet you can get right now is the iPad Pro 12.9 (2021). As Apple's flagship tablet it's far from cheap, but you get a whole lot of performance for your money, with Apple's own M1 processor delivering MacBook-level power, and if you pair it with a keyboard and mouse you'll have a top-quality, super-portable laptop alternative that'll see you through your degree and probably well into a master's, too.
The HDR display is the best example of its type that you can get on a tablet, with a 120Hz refresh rate and a resolution of 2048 x 2732. Its peak brightness is 1,600 nits, and with better control of local dimming, it's more pleasant to look at for long periods. Darker areas have more nuance and depth to them, making for a better and more accurate image that's excellent for photo and video editing.
The performance, as mentioned, is blisteringly fast. The design of the tablet is premium aluminium. Plus, as with the mini iPad, you get support for the Apple Pencil 2 stylus, one of the best styluses around right now, especially for artists and designers.
Of course, we hesitate to recommend this tablet for students because of the price. It is tremendously expensive and it's only worth the price tag if you really need the power it offers. If you do, for example, if you need to run power-hungry editing apps as part of your studies, then this tablet won't disappoint you. See our iPad Pro 12.9 (2021) review for more information.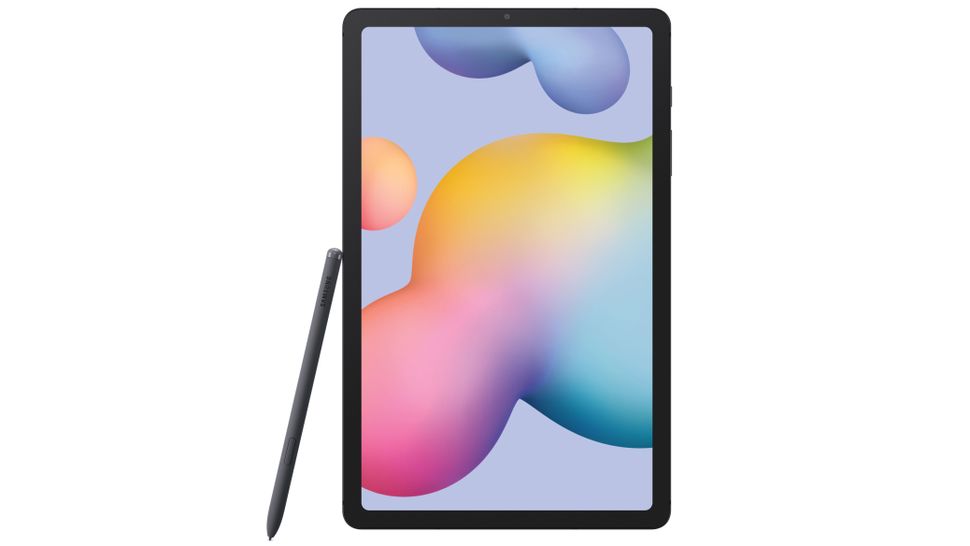 Need a premium tablet for students without a heart-stopping price tag? The Samsung Galaxy Tab S6 Lite may have been superseded by both the Galaxy Tab S7 and S8, but it still provides respectable performance and build quality, and its age means that not only are there some incredible bargains to be found, there's also the fact that you don't need to worry so much about carrying it around with you as much as you might with a more expensive tablet.
Unlike many of the tablets on here, it comes with a stylus included. The S-Pen is a perfectly decent stylus, and while it can't compete with some of the more advanced styluses out there, it's fine for note-taking and doodles, and it's nice that it's included here, saving you a bit of extra money.
While there are newer Galaxy tablets out there in the form of Samsung's S7 and S8 range, we're sticking with the S6 as our recommendation for now as it's available at a cut-down price, and still is more than capable of delivering everything most students will need. If you really want more processing power or screen resolution then consider the newer tablets, but otherwise we'd say the Galaxy Tab S6 is a perfect buy.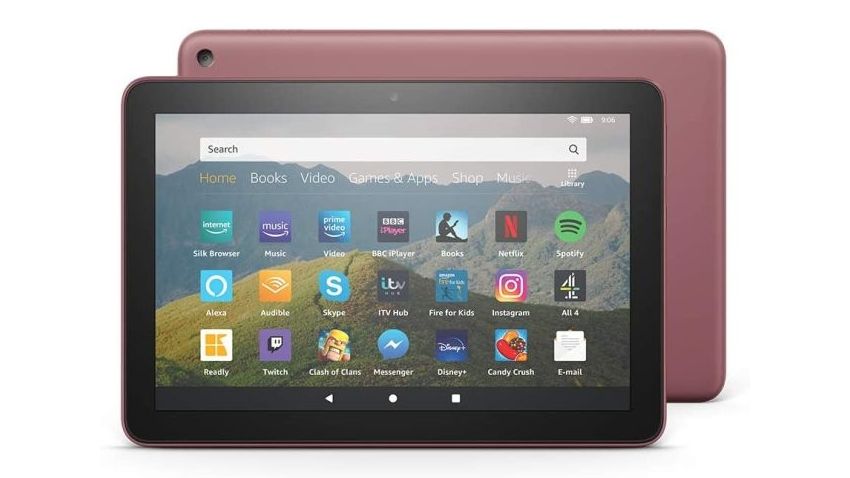 If you don't have a lot of money to spend on a tablet, don't despair. While you're never going to get iPad Pro-level performance out of a cheap tablet for students, if you opt for the very reasonably-priced Amazon Fire HD 8 (2020) you should at least be pleasantly surprised by what it can do. Despite its low-end price it still packs some decent features, and it's a significant upgrade from its predecessor.
If you shop on Amazon a lot and you have a Prime membership, you'll find a lot to like with this tablet, and it'll run plenty of apps that can help you with your studies. It's also a good performer when it comes to entertainment. There's Amazon Prime, of course, along with Netflix and Disney Plus, and they all run well and look good on the 8-inch screen. If you want a tablet but don't want to spend much, then this is a great budget choice.
The numbering system for tablets can be confusing due the conventions used by different brands. With Amazon Fire tablets the number refers to the size of the tablet rather than the generation as it does in the Microsoft Surface devices. If you need a larger tablet, the Fire HD 10 offers a 10in screen, but we like the 8in Fire HD 8 for its convenient portability.
If you choose an iPad or Android tablet then you'll probably be able to find all the apps you need in their respective stores. However, if your coursework requires the use of full creative apps rather than mobile versions, then a Microsoft Surface is the way to go, because it's essentially a slimline Windows PC. This means you can run proper desktop apps (such as full-fat Adobe Photoshop and other Creative Cloud packages), without having to worry about them not having all the features you might need.
The Surface Go 3 below will do that for an affordable price, making it a good student choice, but if you need a tablet that really runs desktop apps without having to pause for breath every now and then, and if you have the budget for it, the Surface Pro could be your new best friend.
The Surface Pro 8 is the latest in Microsoft's high-end hybrid tablet range. And it's worth the investment if you can afford it since. In our review, we found the improvements over the older Surface Pro 7 to be much more notable, both in terms of design and performance.
The Surface Pro 8 is designed to showcase Windows 11 and it does that with aplomb thanks to a gorgeous screen and powerful processor. Pair it with a Type Cover, and you really do have an experience that can stand up to a laptop while being thinner and lighter than any laptop you could buy. Battery life is great as well. There are several configurations, so you can opt for lower RAM and storage space to save cash but this is always going to be a pricey tablet for students.
See our full Surface Pro 8 review for more details.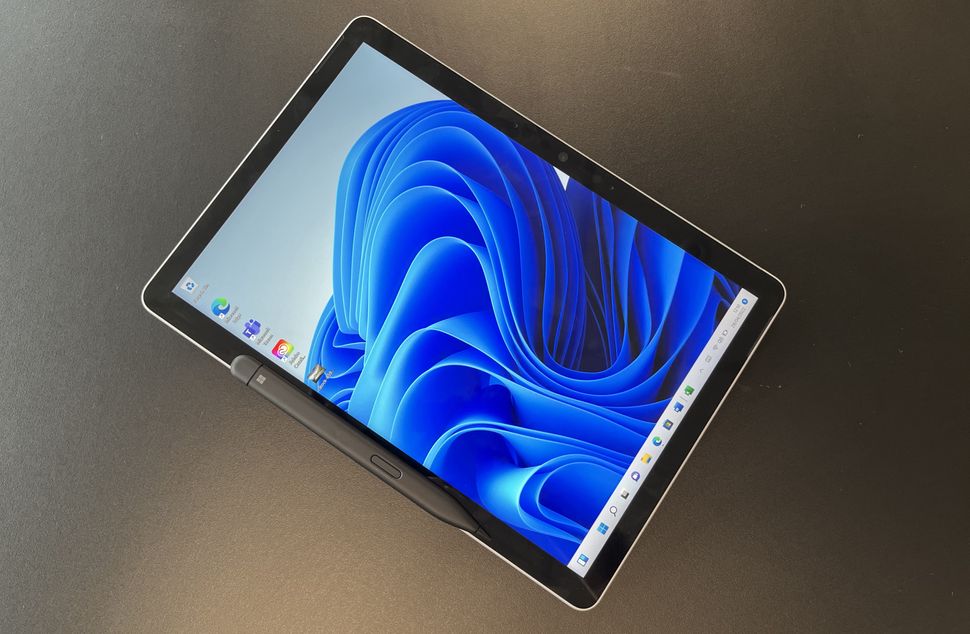 The Surface Pro 8 above is the best Windows tablet for students overall, if you have the money to splash and if you need that much power. But if you'll only be using your tablet for taking notes and writing up essays, it's really much more than you need. In that case, you might be better opting for the Surface Go 3.
The Surface Go 3 is not going to be able to cope with heavy creative apps and image rendering like its Pro cousin mat, but it is the most affordable Surface tablet, and it offers a stylish, lightweight design and low price. Invest in the Type Cover, and you can protect the screen and turn the Surface Go 3 into a great little Windows laptop for writing up essays.
The Surface Pro 3 offers a newer processor and slightly better performance over its predecessor, although its display is slightly dimmer and battery life isn't great, so you might also consider the older model if you spot a good deal.
See our full Surface Pro 3 review for more details.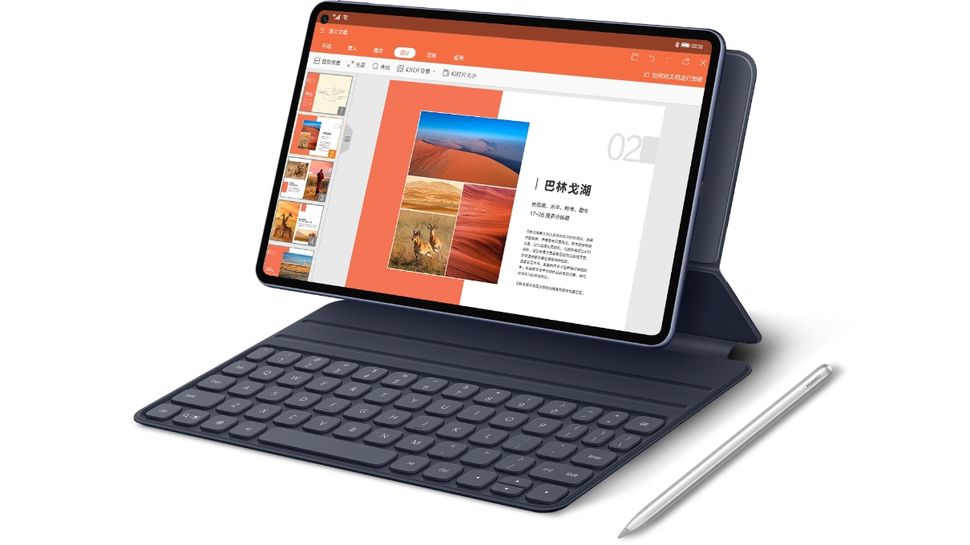 Another great option if you need a less expensive tablet is Huawei's MatePad Pro. Huawei's coming on strong in the world of tablets, and this one's quite possibly its best yet, with a good-looking 10.8-inch screen and the sort of battery life you'd be happy with in a premium tablet.
Cutting to the choice, with the MatePad Pro you get a tablet that can give the iPad Pro a run for its money, for roughly half the price, and if you're happy using Android rather than iPadOS then you'll find it's an excellent (and much more affordable) alternative.
However, we should point out that while it runs Android, it doesn't have access to the Google Play app store, or other Google apps. Instead it has Huawei alternatives, and while many of them do a great job, some people may be disappointed to find their favourite apps aren't there, so if you are tempted, it may be worth doing a bit of research first.
There's no denying the performance of this tablet, however, and if you combine it with a stylus and keyboard, you've got an excellent 2-in-1 tablet to help you with your studies.
We're not going to lie, we absolutely adore the brand new iPad Air with its M1 processor; just a quick scan through our Apple iPad Air (5th Gen, 2022) review will tell you that this a brilliant and powerful tablet that's almost as good as the mighty iPad Pro. However, we're instead recommending the previous 2020 model; it doesn't have the raw power of the the latest version, and we've found that the battery life could be better, but the arrival of the 2022 iPad Air means that you can pick up the earlier model at a sweet discount if you shop around, and get a decent slab of tablet at a very reasonable price.
As with Apple's other iPads, it has a fantastic design and a stunning screen, and App Store has a brilliant array of apps and games, so no matter what course you're taking, or what kind of games you like playing, the iPad Air 4 will have a choice for you. Power-wise it's got the same chip as the iPhone 12, so it's no slouch, and while it can't compete with the iPad Pro, it doesn't need to. We were certainly impressed in our review, and found it offered more than enough power for almost every iPad app out there. Hook up a Smart Keyboard, and you've got an excellent tablet that can also be used as a laptop, which is great for when you need to write out long essays, and it supports Apple Pencil 2 as well.
One thing to note, however, is that the cheapest model comes with just 64GB of storage, and unlike some Android tablets, there's no memory card slot for adding extra space. You might find that storage isn't enough to store everything you need for your studies and that you need a cloud storage option. See our full iPad Air 2020 review.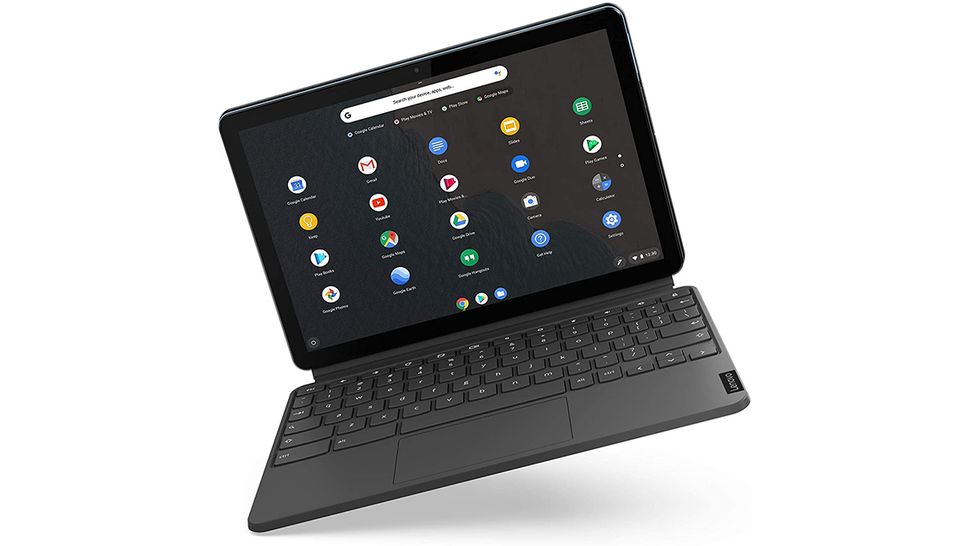 A Chromebook may not be your first choice when looking for the best tablets for students. Nevertheless, there are plenty of reasons why you might opt for one. With Google Chrome as your OS, you get speed and ease of use, as well as Google's own security, cloud storage and free connected apps. And the Lenovo IdeaPad Duet Chromebook 10.1 is a fine option; not only does it come at a great price, it's absolutely perfect for things like research, writing and organisational tasks, and it's ideal for video conferencing too.
The downside to using a Chrome OS is the tablet lacks the power of an Apple or Windows device, and won't run desktop or intensive software. That aside, the Lenovo IdeaPad Duet Chromebook 10.1 performs most tasks, and many desktop apps have mobile editions that can prove just as useful and are often far cheaper.
The Lenovo Duet is a well-designed tablet. It's a little chunky compared to Apple devices but that also means it's a sturdy device. The fact it comes packaged with a keyboard and stand is a bonus, and only serves to reinforce the value-for-money this budget tablet offers.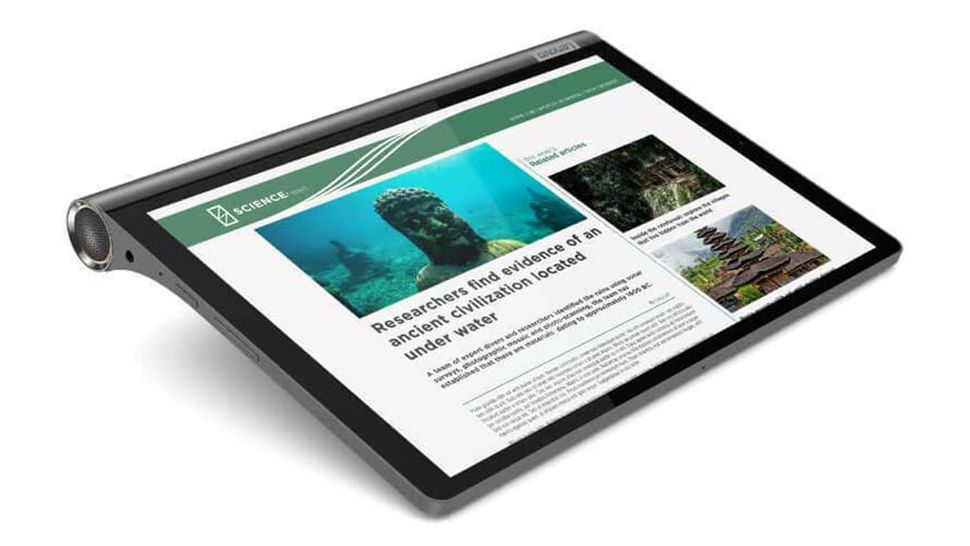 If you're short on budget, the Lenovo Yoga Smart Tab is an interesting little tablet that's well worth a look. Compared to many of the tablets listed above it's a little short on power, but it has a great-looking screen and decent built-in speakers, and it has Google Assist built in. As a result, what you have here is a well-priced and functional tablet for any student who doesn't have money to burn.
The design of the Lenovo Yoga Smart Tab is unique. One end has a bulky, rounded cylinder that tapers away to form a smooth and curved design. This ensures it a natural typing position and can be stood upright at an angle for viewing – it's a perfect device for written work and video calls (and great for films).
Made from aluminium and covered with a soft-touch acrylic finish, the Lenovo Yoga Smart Tab is a light and agile tablet. This device has a lot going for it, but it's also light on power and uses an older version of Android, which can limit its app use. That said, if you're writing and organising, researching and browsing the web, or taking on video calls and remote lectures, it's actually very handy; a good backup tablet.
Related articles: