Matt Heafy Les Paul™ Custom Origins Giveaway
"Supergroup" is a tired, overused term in music. However, when musical aces like guitarist Guthrie Govan, bassist Bryan Beller, and drummer Marco Minnemann jam… they are an unrivaled force of nature.
Each player has a remarkable resume: Govan has worked with Steven Wilson, Hans Zimmer, and Asia; Beller with Satriani, Vai, Dethklok, and Dweezil Zappa; and Minnemann with the Mute Gods, Trey Gunn, H-Blockx, and Mike Keneally—among many others.
What makes a supergroup novel is generally the collective's previous endeavors and collaborations. The magic with these three cats is that their superpowers combine to become a flashy and fluent highflying act.
Formed unceremoniously for a performance at the 2011 Anaheim NAMM Show, this tremendously talented trio has released nine albums (five studio and four live) in 11 years. The attraction for both the audience and the band is the same: variety. In any given performance, you can hear them shift from Return to Forever to Yes to King Crimson to Vai to Rage to Funkadelic to moments of deranged Zappa.
"We've been a pretty strange, eclectic band to begin with, as the music we do tips our hats to a lot of different styles," notes Govan. "All I've ever done over the years I've been playing guitar is to just listen to everything around me and absorb the aspects of it that I liked. I've never felt an urge to specialize. I'm happy to keep combining whatever flavorings I like and rolling them all together." The result: These three executive chefs put on a spicy clinic that would even please Gordon Ramsay.
The Aristocrats' headlining 2022 run landed at Nashville's City Winery on July 27. Before the musical throwdown commenced, PG's Chris Kies hosted conversations that covered Beller's booming setup, including some old favorites and recovered friends (via social-media sleuthing), while Govan focused on detailing the slight-but-crucial changes to his signature Charvel and explaining his live tonal evolution—modernized with an all-encompassing Fractal Audio unit.
Brought to you by D'Addario XPND Pedalboard.
The Red Baron
It's been 23 years since Bryan Beller first picked up this 1998 Mike Lull Modern 5 Jazz Bass and it's been his No. 1 ever since. As the legend goes, Beller found a Modern 5 at the old SWR Bass Amplification factory soundroom. He loved it so much he took it to a Mike Keneally gig at the famous Baked Potato jazz club in Los Angeles, and he never brought it back. It's worth noting that his original Modern 5 bass was stolen (among others) from Beller's gear storage in the winter of 2016, so the above model is another M5 built in 1998 that he acquired after the raid.
Beller's thoughts on the red rider, as listed on Mike Lull's website: "I fell in love with it because it's an aggressive rock-flavored 5-string jazz bass. The ash body, maple top, maple fingerboard, vintage late-'60s-flavored Seymour Duncan pickups, and original-spec Bartolini preamp combined for a bright jazz bass that did everything right. I can play clean, clear pop/rock and R&B on it. I can make it bark if I get on it harder, and it reacts incredibly well to overdrive effects for the Tim Commerford/Rage Against The Machine vibe. And the playability from the 1st to 24th fret is second to none." (Detail-oriented viewers may notice the pickups have "Basslines" listed on their cover, but originally Seymour Duncan manufactured their bass offerings under that name. They have since dissolved Basslines as a brand and welcomed bass pickups under the Seymour Duncan umbrella. Beller's pickups are technically Basslines 67/70 Jazz Bass 5 String single-coils.)
Additionally, the bass has an original Bartolini NTMB preamp. (This is not the modern, updated versions denoted as the NTMB+F or NTMB+FL, for fretted or fretless setups). All his instruments take D'Addario EXL170-5 Nickel Wound Bass strings (.045–.130) with a tapered-core B-string. He prefers to use steels and lets them die to give his sound a rounder, thicker tone rather than simply using a standard set of flatwounds.
And finally, bassists can own their very own tone monster as Lull offers a pair of signature models based on this serendipitous partnership.
Dark Chocolate
"This is a passive Mike Lull PJ5 and it has a completely different purpose," states Beller. "It has an alder body with a rosewood fretboard so it has a dark, chocolate-y thing." The PJ5 has a smoother, more even tone allowing Beller to nimbly walk the neck.
Spacing Is Key
Above is a pre-Gibson 1986 Tobias Basic 5-string that he purchased in 1990 from lifelong guitar nut and notable luthier Paul Slagle. (Slagle passed away in 2020.) Beller used it while attending Berklee College of Music in Los Angeles and on his audition (and eventual gig) for Dweezil and Ahmet Zappa's band Z—until it was stolen from his North Hollywood apartment on New Year's Eve 1994. Yet another social-media post proved fruitful as he was able to reconnect with this lavish 5-string built primarily from lacewood. This is the first time he's taken it on tour since 1994.
For the Aristocrats set, he uses it for the song "Last Orders" off their 2019 album You Know What…? The song requires extreme finger stretches and extended chordal grabs made accessible by the Basic's compact string spacing.
Bryan Beller's Pedalboard
Starting in the top right corner, Beller has a pair of Xotic EP Boosters (currently he's only using one) to help bring up the output of his two passive basses to match the red Lull. This is a workaround on Beller's end, so FOH is getting unity gain from his signal no matter the instrument. Next you see the Demeter Opto Compulator that's always on. Then the fun starts with a TC Electronic Hall of Fame reverb, Boss CE-2B Bass Chorus, Boss DD-3 Digital Delay, and a TC Electronic Flashback delay/looper.
In the bottom left corner, we have the classic brown-box Boss OC-2 Octave ("the greatest octave pedal ever made") and an Xotic Bass BB Preamp (his main overdrive). The Darkglass Electronics Vintage Microtubes and MXR M109S Six Band EQ are used in conjunction for a beefier Rat sound. Then there's an Electro-Harmonix Micro POG (newest addition to the board) set to an octave up. And an old DigiTech Bass Driver that works behind the Bass BB Preamp and often runs into the Dunlop 105Q Cry Baby Bass Wah Pedal (white), giving the vocal-like sweeps more definition and prominence. Off to the left side, Beller has a Dunlop DVP3 Volume (X) Volume and Expression pedal. And a Boss TU-2 Chromatic Tuner keeps his basses in check.
"Low-Rent Geddy Lee"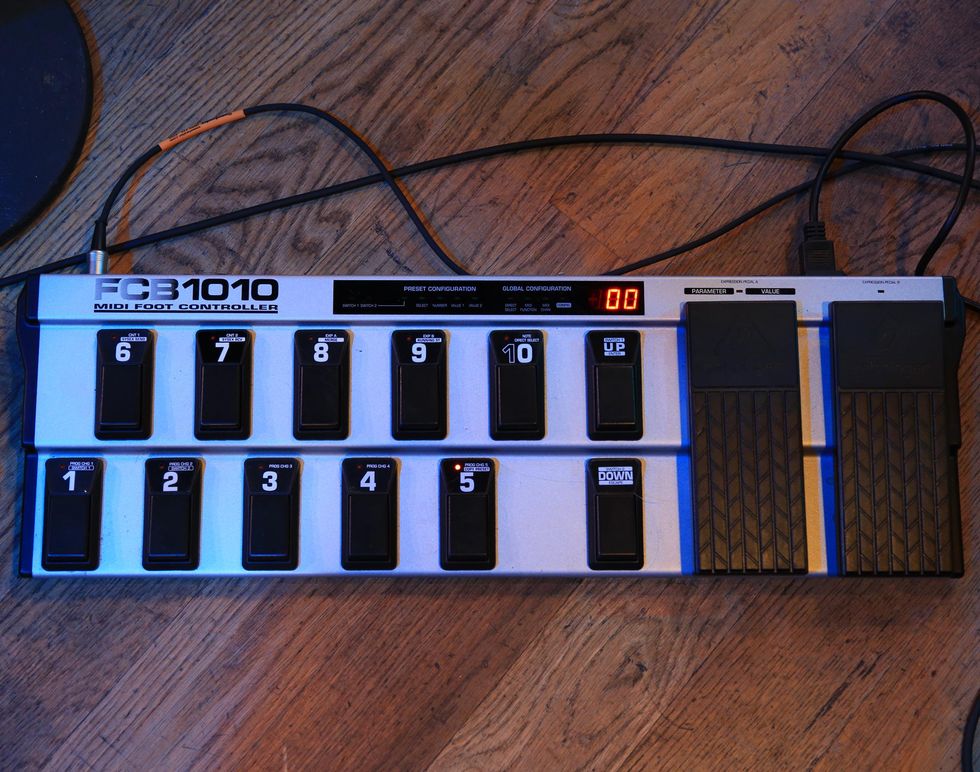 Beller has incorporated the Behringer FCB1010 MIDI controller into his rig so he can provide some "low-rent Geddy Lee" moments in the set via a Roland JV-1010 64-Voice Synth Module.
"Low-Rent Geddy Lee"
Beller has incorporated the Behringer FCB1010 MIDI controller into his rig so he can provide some "low-rent Geddy Lee" moments in the set via a Roland JV-1010 64-Voice Synth Module.
23andBB
Using the Raven Labs Model MDB-1 mixer/direct box/buffer for his pedals (no effects loop, kids) and running the Roland JV-1010 into his amps allows Beller to employ both his bass and the synth module at the same time. He feels if the JV-1010 was running just through the monitors it would sound unnatural and get lost in the mix.
Gallien Growlers
His three-amp pairing includes a trio of Gallien-Krueger heads. In the top-left slot sits a first-generation GK MB Fusion (500W) that acts as the universal preamp coloring the entire rig. (The MB Fusion on the right stack is just a spare.) The MB Fusion is split two ways. The bottom-right head is a Gallien-Krueger 2001RB that hits a duo of Gallien-Krueger CX410 cabs (top set on each side). The other side of the MB Fusion runs into GK 1001RB that hits a pair of Gallien Krueger CX410 cabs cabs on the bottom of each side.
A Dream Instrument
Guthrie Govan has been with Charvel for nearly a decade. He's developed two signature models and here is the brand-new chapter. The Guthrie Govan MJ San Dimas SD24 CM features a basswood body with an ash cap (based on the San Dimas Style 1 silhouette), caramelized maple for the neck, and a fretboard with 24 jumbo stainless-steel frets, a 25.5″ scale, and a 12-16″ compound radius fretboard. (The previous model had a caramelized flame maple neck and fretboard.)
"The purpose of an instrument like this is to have a dream instrument where you get called to go somewhere to do a session or to do a gig and you have no idea what will be expected of you," Govan says in a Charvel promo video. "Can you hop on the airplane with one guitar confident that it will actually be able to deliver whatever the people at the other end will need? This was the quest of the process."
A new feature first found on this sig is the freshly designed Recessed Charvel Locking Tremolo bridge (without a locking nut) that was created from the ground up with Govan's input. The use of the simpler Graph Tech TUSQ XL nut allows GG to make quick changes to and from standard and drop-D tunings, and avoids getting his left-hand bitten by the locking nut when he gets a little carried away. The SD24 CM's pickups were dialed in by designer Michael Frank-Braun (the mastermind behind Eric Johnson's signature pickups) and are constructed in Korea. The 5-way selector has an unusual layout that avoids engaging the middle single-coil without either the bridge humbucker's inner coil or the neck's outer coil. The standard middle (or third position) engages the outer coils of each humbucker. Both of his Charvels take D'Addario NYXL strings (.011–.052) and this one typically rides in drop-D tuning.
While you'll see the original "fancier" model in the next slide, it's worth mentioning the "simplified" Japanese-made guitar just earned a Premier Gear Award in our September 2022 issue.
It's "Christmas Time"
Here's his first namesake instrument—the Guthrie Govan USA Signature HSH Flame Maple. Similarly to the SD24, the body on this one is basswood, but the original comes with a flame maple top. The initial iteration also offered an option for a caramelized ash body. This one has Charvel's custom MF pickups. It tends to be saved for standard tuning. Having a gigbag that can tote two guitars with operational floating trems is, as Guthrie says: "Christmas time.
No Problemo
The USA Guthrie Govan model included an Allparts Tremol-No clamp that has three options of functionality. Position one allows the tremolo to work as intended. The second setting locks the tremolo so it won't move at all. And in the third spot, the bridge stays solid and stable for dropped tunings.
Couldn't Bear To Play with Another
Ever notice Guthrie Govan doesn't throw picks around like most rockers? Well, that's because he generally travels with just three of his signature Red Bear picks. (They retail for $35 per pick.) His preferred plectrum is based around the company's Big Jazzer shape, in an extra-heavy gauge with grips and a speed bevel. Additionally, on the top of the rounded edge you'll find serration much like a dime or sixpence.
Digital Bagpipe
Whether it's been flanking Steven Wilson or tangoing with the Aristocrats, Govan has been an amp-and-pedalboard guy. He's had long ties with the British valve hounds at Victory. (In a 2019 interview with PG, he noted preferring the V30 MKII.) However, things shifted when he began working with legendary composer Hans Zimmer. For the scope and span of that gig, he needed to welcome the digital bath that is modeling since everyone uses in-ear monitors and a lone-wolf guitarist could never dream of overshadowing an orchestra in that environment. Alas, Guthrie's dance with digital began. Through the shutdown, he collaborated often with Hans on several film scores and found boundless creativity within the Fractal Audio FM9. (He mentions in the Rundown that for one part of Dune he used 32 layers of detuned Axe-Fx patches to create a bagpipe sound.)
"I became more comfortable with this digital world, so I thought let's see what it can offer me in a more traditional rock-n-roll context," admits Govan. "As it turned out, our set has been evolving a little bit and it's proving harder to get one amp and one cab to sound just right for each of those pastiche things that we like to do. With this (looks down at the FM9), I can bring 10 amps and 10 cabs on the plane [laughs]."