Rig Rundown: Municipal Waste
See how these thrash revivalists keep it simple and savage.
---
Thrash metal has seen a resurgence since its '80s heyday. Megadeth earned a Grammy for their 2016 album Dystopia, and very recently Stranger Things' brave headbanger Eddie Munson brandished a B.C. Rich Warlock for a literally death-defying performance of Metallica's "Master of Puppets" that catapulted the song into widespread pop-culture consciousness. But for metal purists, Municipal Waste and their cofounding guitarist Ryan Waste, plus their track record of seven mosh-motivating albums over the past 21 years, prove the genre's brand of battle-axe riffery wasn't a fad. Sure, the band's sound has diversified the artform with the subtle incorporation of hardcore breakdowns and punk-rock-like choruses—but everything is still in fifth-gear, baby!
Ahead of their headlining show at Nashville's Basement East on August 10, PG's Perry Bean jumped onstage to talk gear. Guitarists Waste and Nick "Nikropolis" Poulos prove they can travel light but stay lethal with a few riff-makers, gassed-up Marshalls, and some green and yellow Japanese drives.
Brought to you by D'Addario Nexxus 360 Tuner.
The Flying M
Ryan Waste is a left-handed shredder and has been plagued his entire career with the limited availability of southpaw speed machines—especially in traditional "metal" models. (He states in the Rundown that Municipal Waste's early work was recorded on a Strat.) So, what's the best workaround? Collaborate with a company to build your signature model.
This MW-AX from RIP Custom Guitars is the fifth iteration of his sig. Specs include a mahogany body, a mahogany set neck with a C-shape profile that's paired with an ebony fretboard that has a 12″-16″ compound-radius and 24 Dunlop 6100 jumbo frets. It has a roomier 25.5″ scale length, the band's logo sits at the 12th fret, there are Gotoh tuners up top, a Kahler 2300 Tremolo that unlocks dive bombs, a MEC kill switch for muting, and it screams thanks to a Seymour Duncan JB Trembucker. There's no volume or tone knobs because, as Waste puts it in the Rundown: "It's all or nothing, man. That's me."
Tower of Terror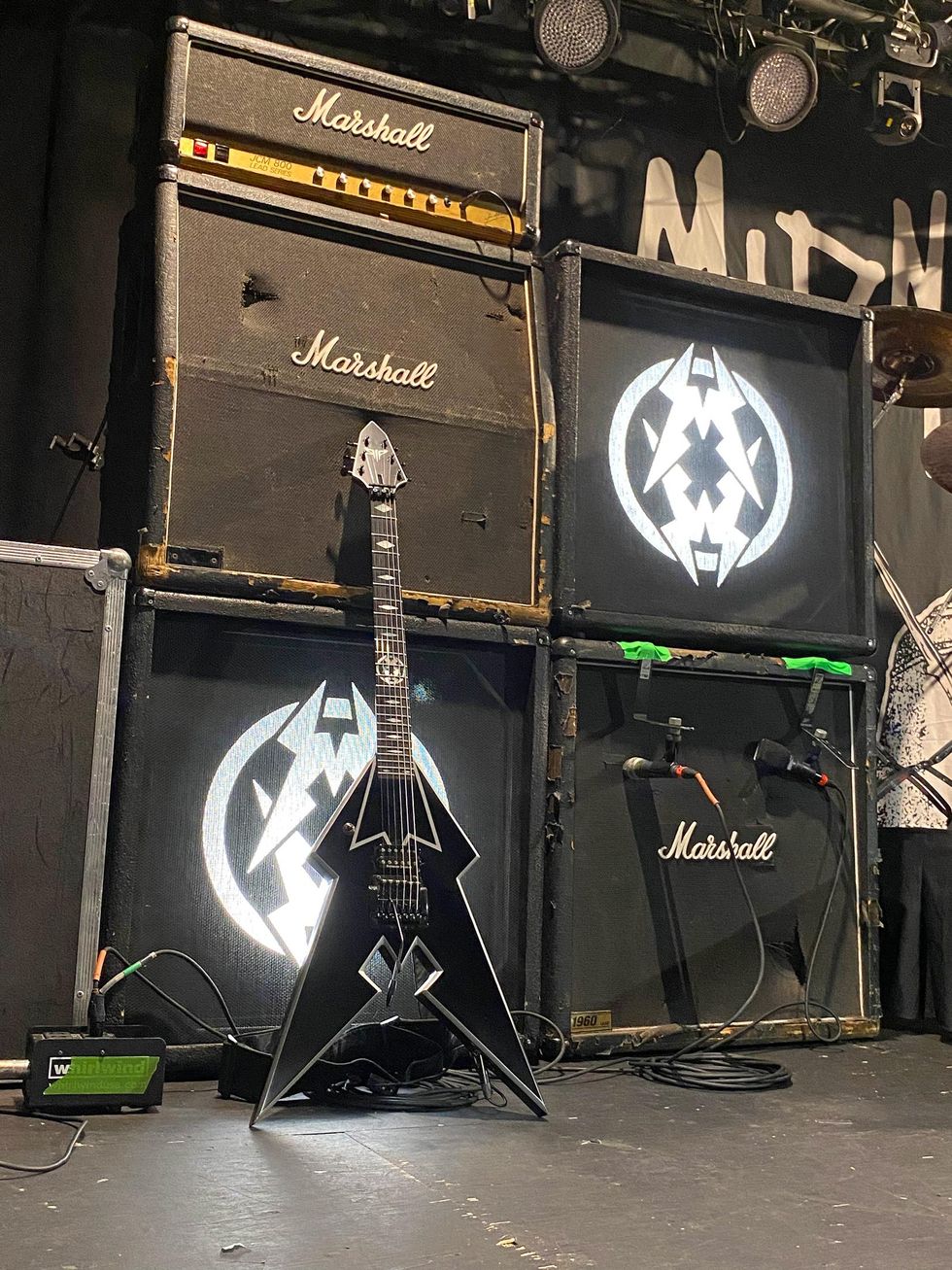 "It's over the top," admits Waste. "We keep it OTT [laughs]." This slice-n-dice 6-string stays laced up with Ernie Ball Slinkys (.10–.46) and the band exclusively plays in standard tuning. It leans against Waste's altar of tone. The cabs with the band's logo are empty and light up, but the other Marshall 4x12s are loaded with Celestion Vintage 30s. Scroll down to learn about the JCM800.
A Marshall with More
Waste has plugged into plenty of heads throughout his career, but he's never felt more at home than when this 100W 1986 Marshall JCM800 2203 is roaring behind him. The classic head has been supercharged with the V2 preamp socket mod (with the bass setting), giving the 800 a lot more gas and gain.
Green Means Go
Ryan doesn't waste time with an actual board. As you can see, he's got an Ibanez TS9 Tube Screamer (that's always on) and a Boss TU-3 Chromatic Tuner—keeping it simple and savage.
A Shred Plank
"These guitars are great for this kind of music," states Municipal Waste lead stringer Nick Poulos. "They're shred planks." Poulos pieced this custom ride together using the base ingredients of an Ibanez RG model, upgraded with DiMarzio pickups and Ibanez's Edge Zero II tremolo. He rocks Ernie Ball Slinkys (.10–.046) just like Waste.
Master Marshall
Poulos plugs into this 50W 1988 Marshall JCM800 2205 dual-channel head with master controls for presence, volume, and reverb.
Stacks Are Back!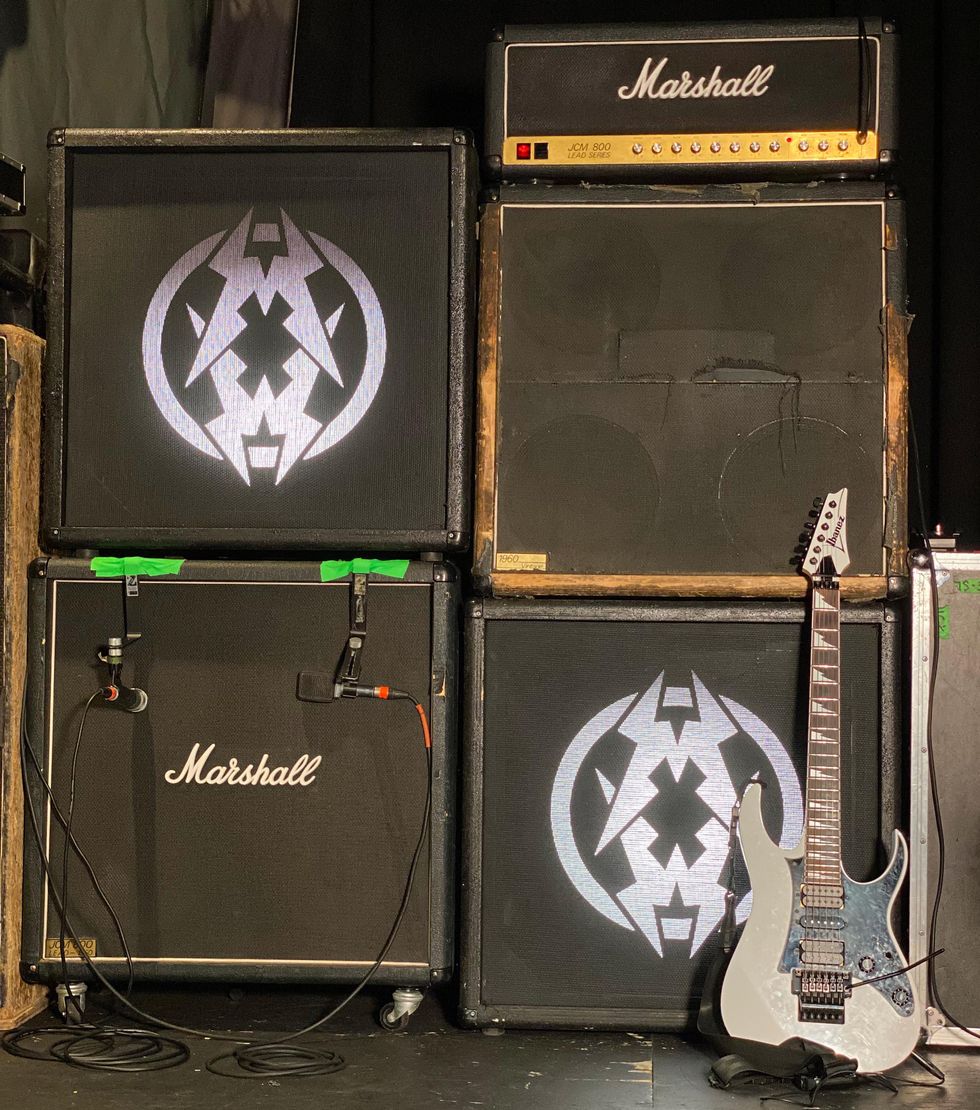 And here's an impressive look at Poulos powerful riff station, showcasing a similar setup to Waste's—with two cabs ready to sting and the other two ready to bling.
Nick Poulos' Pedalboard
Poulos is Municipal Waste's "pedal guy," having a proper board and three stompboxes. He runs his guitar into a Boss TU-3 Chromatic Tuner before it hits an Ibanez TS9 Tube Screamer for rhythm tones, and a Boss SD-1 Super Overdrive gets engaged for solos.
From Your Site Articles
Related Articles Around the Web